Adam Lyth: England Test hopeful who turned down Man City
By Sam Sheringham
BBC Sport
Last updated on .From the section Cricket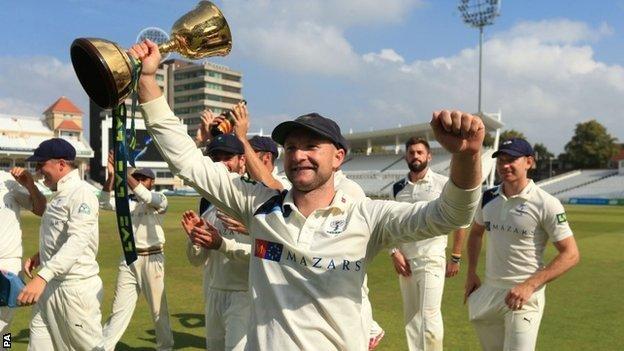 Adam Lyth, the Yorkshire opener widely tipped to partner Alastair Cook in England's next Test, spent his early years wanting to be a footballer.
But unlike most childhood dreams of fame and fortune, Lyth's very nearly came true.
For two successive summers at the age of 15 and 16, the 5ft 9in central midfielder spent six weeks on trial with Manchester City, rubbing shoulders with first-team regulars like Nicolas Anelka and Robbie Fowler and getting a taste of the high life as a Premier League footballer.
Despite interest on City's part in taking things further, Lyth opted for another sporting career - and one which looks to be taking him to the very top.
"City put me up in a five-star hotel and the training facilities were amazing," says Lyth, who turned 27 last week. "It was a bit surreal really, having watched the players in the Premier League and going there and seeing them all.
"They were very interested in me but I didn't want to leave home. At the time, my brother was at Leicester City and I knew how hard it was for him to try to get in their first team.
"I was no worse than the other guys there, but at the back of my mind I knew I was a lot better at cricket than I was at football so I decided that would be a better career path. It's kind of worked, I think."
Famous cricketing footballers
Denis Compton won the league and FA Cup with Arsenal and made 12 wartime appearances for England
Willie Watson, who played 23 Tests, was an unused member of the England 1950 World Cup squad in Brazil
Ian Botham played 11 times for Scunthorpe United in the Football League
Viv Richards represented Antigua in the 1974 World Cup qualifiers
Lyth is being modest, a character trait which recurs several times during our end-of-season chat at Headingley, the ground where his prolific run-scoring played a pivotal part in Yorkshire's first County Championship title since 2001.
The Whitby-born left-hander scored six hundreds and six fifties at an average of almost 70 to establish himself as a frontrunner to replace Sam Robson when England begin their 2015 Ashes preparations in the West Indies in April.
Lyth, who won the Cricket Writers' Club Championship Player of the Year on Tuesday, is likely to be given the chance to cement his place on the England Lions tour of South Africa in January.
But with Robson and his Yorkshire opening partner Alex Lees also expected to be in the touring party - and one-day specialist Alex Hales hoping to stake his claim at the World Cup - does he anticipate a shoot-out for the role?
"It could be, yeah," Lyth concedes. "They are all good players. I won't try to do anything different. I'll just try to look after myself, train hard, work hard and do as well as I can.
"I've done myself no harm scoring the volume of runs I have this year, so if it is me in the West Indies who plays I'll be a very proud and honoured man to put on that shirt. But I don't want to look too far ahead. Until I get that call all I can do is keep scoring runs."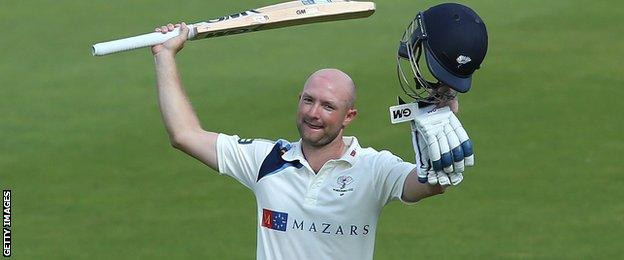 If Lyth sounds cautious, it is because he knows what it feels like to be talked of as an England contender, only to miss out. In 2010, with Cook struggling badly against Pakistan, he was the fastest county batsman to reach 1,000 runs and was tipped as a potential opener for England's Ashes tour that winter.
But Cook's hundred at The Oval kept him in the side and the Essex opener went on to score 766 runs in England's historic 3-1 triumph.
"I would have loved to have been given a go but at the end of the day Alastair Cook is a fine, fine player, and he was given the chance to prove he was the best choice," says Lyth. "He had an absolutely unbelievable series in Australia, so he proved them right, didn't he?
"At the time I was young. I always thought my time would come. The selectors just said to me - all you can do is keep scoring runs."
Unfortunately for Lyth, the runs dried up. After an underwhelming Lions tour to the West Indies, he averaged only 26 for Yorkshire in 2011 and scored just three centuries in 41 first-class games over the next three seasons.
"Teams started to bowl a bit differently to me, to set different fields and that kind of stuff," he admits. "I don't think I was as patient as I had been in 2010. Luck plays a part too.
"But this year my concentration and shot selection have been first class. I've been greedy and hungry for runs."
Adam Lyth first-class season by season

Season

Matches

Runs

Highest score

Hundreds

Average

2007

1

31

31

0

31.00

2008

14

645

132

1

30.71

2009

5

240

71

0

30.00

2010

16

1,509

142

3

52.03

2011

11

553

74

0

26.33

2012

13

751

248*

1

50.06

2013

17

850

111

2

34.00

2014

17

1,619

251

7

70.39
As Lyth himself suggests, the key to his 2014 transformation has been a greater maturity to his batting - an awareness of when to attack and when to knuckle down.
A natural strokemaker who grew up idolising Graham Thorpe, he scored a blistering 230 against Northants in early June that prompted Yorkshire captain Andrew Gale to boldly state that Lyth had more ability than the county's England trio of Joe Root, Gary Ballance and Jonny Bairstow.
But an innings against Middlesex at Scarborough in July spoke of a stomach for the fight that would stand him in good stead in the Test arena.
Facing a fired-up Steven Finn on a soggy opening day in which none of his team-mates managed to score more than 30, Lyth batted for more than five hours to compile 117, paving the way for a hard-fought Yorkshire win.
Two months later, when the Championship trophy was within reach, it was Lyth who leapt up and grabbed it with both hands.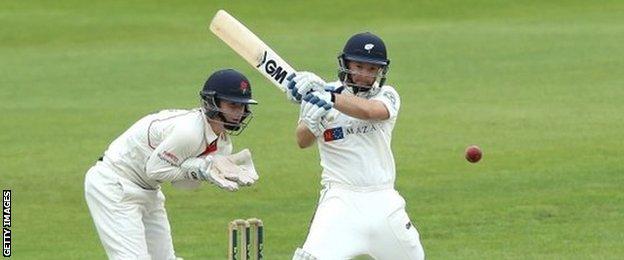 He scored a career-best 251 in a resounding victory over Lancashire, then backed it up with a first-innings 122 at Trent Bridge as Yorkshire thrashed their nearest rivals Nottinghamshire to win the title in style.
"I'll never forget that day," says Lyth. "To put in big contributions at Trent Bridge and Old Trafford to help us get over the line and win the title was amazing."
At 27, Lyth is the same age as Andrew Strauss was when the former England captain made his England debut. He has spoken to Root and Ballance about playing Test cricket - "Rooty says it's a lot more intense" - but is yet to sit down with Cook or national team coach Peter Moores.
His next chance to impress them will be in November on a training camp with the Performance Programme in Sri Lanka, where England are playing a seven-match one-day series to tune up for the World Cup.
England Test openers since Andrew Strauss

Player

Tests

Runs

Average

Nick Compton (Somerset)

9

479

31.93

Joe Root (Yorkshire)

5

339

37.66

Michael Carberry (Hampshire)

6

345

28.75

Sam Robson (Middlesex)

7

336

30.54
In the meantime, Lyth will be spending some time on the golf course with his dad and brother and watching his favourite football team.
"Leeds?" I suggest. "Hull? Man City, perhaps?"
"No, I'm a massive Arsenal fan," admits Lyth. "When I was a little lad I went into a sports shop with my mum and dad and they said 'pick any shirt you want.' I liked the colour of the Arsenal away shirt, with the yellow and the three blue stripes, so that was it."
An Arsenal-supporting Yorkshireman. The county's fans will forgive him his glory-hunting, especially now he has helped them taste some glory of their own.