Ireland training tour crucial - William Porterfield
Last updated on .From the section Cricket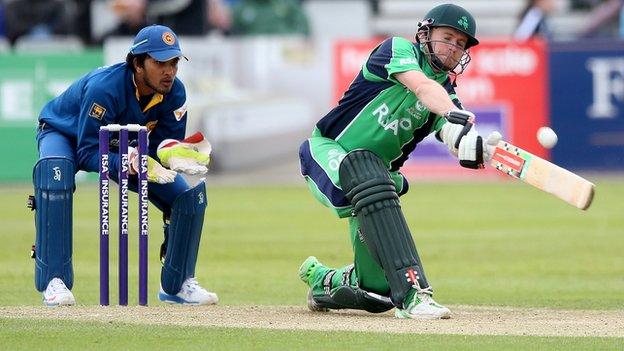 Ireland captain William Porterfield says the tour of Australia and New Zealand is the perfect preparation for next year's World Cup.
The Irish start their eight-game tour on Tuesday against Queensland Bulls on the Gold Coast.
"The tour is crucial. We're going to have 18 lads and that gives a bit of scope," said Porterfield.
"It's going to be a great experience, and a great learning curve for everyone to get to play in those conditions."
He added: "It's good, healthy competition and it's good, the fact that the lads will have that experience going Down Under."
Ireland fixtures
30 September: v Queensland Bulls, Kerrydale Oval, Gold Coast
2 October: v Queensland Bulls, Redlands Oval, Brisbane
7 October: v Comets/NSW 2nd XI, Manuka Oval, Canberra
9 October: v Comets/NSW 2nd XI, Manuka Oval, Canberra
16 October: v Northern Districts, Seddon Park, Hamilton
18 October: v New Zealand XI, Seddon Park, Hamilton
21 October: v Canterbury, Bert Sutcliffe Oval, Lincoln
23 October: v Otago, Bert Sutcliffe Oval, Lincoln
Ireland will take on the Bulls at the same venue on Thursday before two matches in Canberra.
They will then travel to New Zealand where they will play two games in Hamilton and two in Lincoln.
Ireland will compete in their third consecutive ICC Cricket World Cup in 2015 and Porterfield believes the team has what it takes to continue winning on the global stage.
"We've progressed through the group stage in a few competitions and we don't see it as a shock as such," said the opener.
"If we get down there and beat a Full Member team, everyone in the cricketing world knows what we are about, and how we scrap and how we fight for games, and no one really takes us lightly anymore.
"It's not about going there and competing anymore, it is about going there and winning games."