Matt Prior targeting England return - Sussex's Mark Robinson
Last updated on .From the section Cricket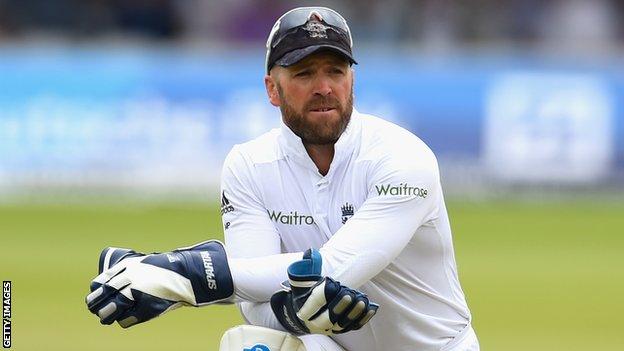 Sussex cricket manager Mark Robinson says wicketkeeper Matt Prior is determined to return to the England side once he recovers from injury.
"Matt is a driven, hard man who has got a lot of medals and a lot of scars as well," Robinson told BBC Sussex.
"The danger is when you look too far ahead but a bloke on a mission and with a dream is quite dangerous."
Prior hit an unbeaten century on his Test debut for England against the West Indies in 2007 and has won 79 Test caps.
The South Africa-born right-hander played 60 consecutive Tests for England between March 2009 and December last year, when he was replaced by Jonny Bairstow after the third Ashes Test against Australia.
Matt Prior's England career

Tests

ODIs

T20s

Caps

79

68

10

Runs

4,099

1,282

127

Average

40.18

24.18

21.16

Strike rate

61.66

76.76

127.00

Caught/stumped

243/13

71/8

6/3
Prior returned to the side for the Test series against Sri Lanka in June but was forced to stand down from international duty because of injury after the second Test against India this summer.
Jos Buttler, his replacement, has been handed a central contract by the England & Wales Cricket Board, whereas Prior was overlooked.
"Jos Buttler is the man in possession at the moment and he's done a good job of it so far," said Robinson.
"Historically players go in and have to come out at some point - be it from fatigue, injury or a dip in their form.
"There are very few who stay in all the time. From Matt's point of view he needs to be there and wants to be there if Jos does have to come out.
"At this stage all Matt can do is get himself fit, get back playing cricket again and start putting in some performances. You don't write people like Matt Prior off."
Robinson expects an update on Prior's recovery around Christmas.
Sussex cricket manager Mark Robinson:
"From Matt's point of view he wants performances which will put his hat back in the ring for when Jos Buttler needs a break or which help win games for us."
Robinson said the prospect of seeing the former Brighton College pupil, who has one year remaining on his contract at Hove, play more regularly for Sussex is "hugely exciting for anyone connected to the club".
"We've got to fit him on to the wage bill, which isn't easy and is giving the chief executive and the chairman some sleepless nights," he said.
"It has been softened by Chris Jordan getting a central contract, but it is still an outlay.
"The playing budget here has stayed static for five years and times are hard. You have to constantly beg, steal and borrow to make things better while trying to hang on to your best players.
"From Matt's point of view, he wants performances which will put his hat back in the ring for when Jos Buttler needs a break or which help win games for us.
"He will add to the dressing room, as well as the quality he brings on the pitch."