Worcestershire: Steve Rhodes hoping to build on latest promotion
Last updated on .From the section Cricket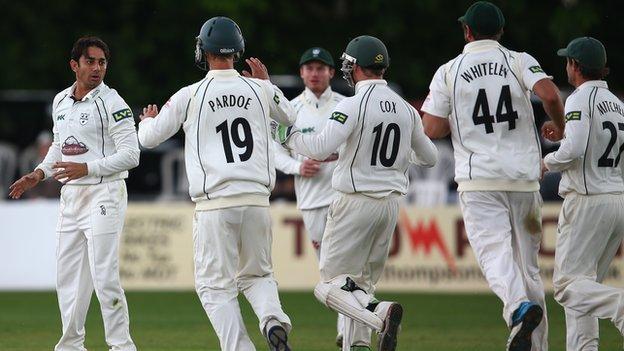 Worcestershire director of cricket Steve Rhodes is hoping to establish his promoted team in Division One of the County Championship next summer.
On three of the previous four occasions when his team have won promotion to Division Two, they have then come straight back down a year later.
Now Rhodes' men are up for a fifth time in 12 years - and they want to stay up.
"We want to make sure that we're a team that don't keep going up and down, up and down," Rhodes told BBC Sport.
"That makes us more attractive for players to come here. We're always on the lookout. It's just not as easy as just having the cash to do it.
New Road's high-performance summer

Three of Worcestershire's promotion-winning team - fast bowler Charlie Morris, opener Richard Oliver and middle-order batsman Tom Kohler-Cadmore - had not played Championship cricket before.

Saeed Ajmal took six five-wicket hauls, twice going on to take 10 in the match. His match-winning 13-94 against Essex in May was the season's best match analysis in Division Two.
Ex-England wicketkeeper Steve Rhodes was still a player when Worcestershire won promotion in 2003 - but he has now taken charge of four promotion-winning sides as a coach.

Daryl Mitchell's career-best run haul of 1,334 in 16 Championship games was only the third time he has passed his 1,000 runs for the season. His 28 catches was also the best of any Division Two outfielder.
"Our obvious aim next year will be to try and maintain our status, but it is going to be a huge challenge."
The main challenge could be finding a replacement for the county's two star turns this summer - Saeed Ajmal and Moeen Ali.
Ajmal still has work to do to convince the International Cricket Council that his action is legal, while Moeen can confidently expect a busy summer on England duty if he continues to perform as well as he has done in his breakthrough summer at international level.
"We still do not know the situation regarding Saeed Ajmal," said Rhodes. "Will he be bowling? Won't he be bowling? Those things are for us to see in the winter."
But, in a sense, Worcestershire have already started learning how to cope without their Pakistani spinner.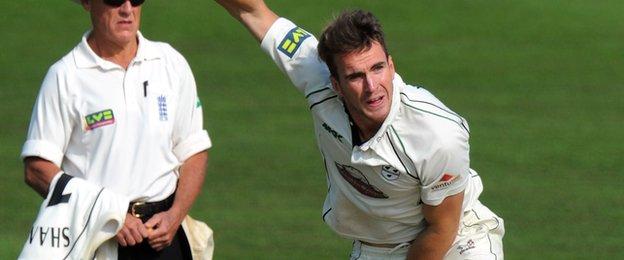 Admittedly, Ajmal's total of 63 wickets in nine Championship matches was the key contribution, but Rhodes' men still managed to earn three of their eight Championship wins without him.
And Moeen played in only eight of his side's 16 games, his tally of 676 Championship runs dwarfed by skipper Daryl Mitchell's career-best total of 1,334, which played a far bigger part in securing promotion.
Similarly, with the ball, Worcestershire had two other players who reached 50 wickets - Jack Shantry, who also weighed in with 481 runs, and Charlie Morris in his debut Championship season, having previously only played first-class cricket for Oxford University. And Rhodes was delighted with the way his largely youthful side contributed.
He told BBC Hereford & Worcester: "You look at our line-up and we've got Alexei Kervezee at 25, Richard Oliver at 24, Joe Leach at 23, Ben Cox, Brett D'Oliveira and Charlie Morris at 22, and Tom Fell and Tom Kohler-Cadmore at 20.
Worcestershire's ups and downs

Began in Division Two when two tiers were first introduced in 2000

2003 - Division Two champions (8.75 points clear of Northamptonshire)

2004 - 7th in Division One (Relegated by 11 points)

2006 - Division Two runners-up (33 points behind Surrey, 9 clear of third-placed Essex)

2007 - 9th in Division One (Relegated by 58 points)

2008 - Division Two runners-up (17 points behind Warwickshire, 21 clear of third-placed Middlesex)

2009 - 9th in Division One (Relegated by 72 points)

2010 - Division Two runners-up (27 points behind Sussex. 5 clear of third-placed Glamorgan)

2012 - 9th in Division One (Relegated by 43 points)

2014 - Division Two runners-up (3 points behind Hampshire, 8 clear of third-placed Essex)
"We've got a really, really young side. For them to be part of a side that's got promoted is really good for us going forward.
"We tailed away as the season was finishing but it should not be forgotten that were 33-1 outsiders when the season began and we've proved a lot of people wrong.
"I'm a winner myself and I like to do things right. To finish the season just dropping off the way we did was disappointing, but that should not detract from the fact that we had eight victories out of the 16 matches we played.
"This team is going to be really tested in the top division. All you can do is be prepared, hence the reason I've asked everyone to make sure their winter is a tough one, an improving one in all aspects - mentally, physically, as well as tactically and technically working on their game."