Gloucestershire losing Gidman brothers a 'warning' - Bracewell
Last updated on .From the section Cricket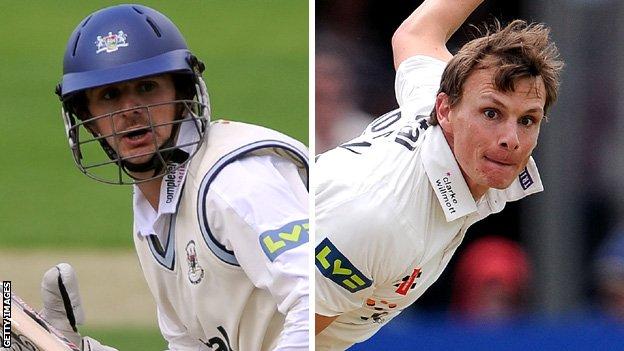 The Gidman brothers' departure from Gloucestershire for Division One should be a "warning" for the club, says director of cricket John Bracewell.
"We can't just rest on our laurels and think people are going to play for us forever," said Bracewell.
"It's a warning to us that we can't become complacent."
He continued to BBC Radio Gloucestershire: "Young kids are ambitious and we've got to provide something within the club that fulfils their own personal ambition.
"That includes first division cricket and the potential to win trophies, as well as a decent salary and, for some of them, a pathway to England.
"We need to tick more of those boxes to retain our cricketers."
The Gidman brothers contributed 2,103 first-class runs between them during 2014, with all-rounder Will also taking 39 wickets.
And Bracewell is aware he has to bring in new faces to fill the void left by the pair.
The Gidman brothers in 2014

Alex - opening batsman

Will - all-rounder

Division Two runs: 1,277; Average: 47.29; High score: 264

Third-highest run scorer, highest score, highest partnership

Division Two runs: 826; Average: 55.05; High score: 125; Wickets: 39

One-Day Cup runs: 91; Average: 30.33; High score: 47

One-day cup runs: 236; Average: 47.20; High score: 71*; Wickets: 12

T20 Blast runs: 236; Average: 16.85; High score: 55

T20 Blast runs: 76; Average: 38.00; High score: 26*; Wickets: 5
"Financially we are a bit cash-strapped and it is a bit of a buyer's market out there at the moment," he added.
"There's a lot of cricketers available but it's whether they fit into our price range and skill set."
Gloucestershire have already agreed to bring back overseas player and this year's captain Michael Klinger for his third season with the club.
But with the Australian opener not arriving until June 2015, Bracewell revealed he is looking to sign a new skipper to lead his team.
"We are probably short on leadership," he admitted. "We've got young guys who are pre-occupied with their own development - which is quite right.
"Whilst a few have leadership potential, it would be unfair to fast-track them into the captaincy."