Chris Cairns: Ex-NZ all-rounder given trial date for perjury charge
Last updated on .From the section Cricket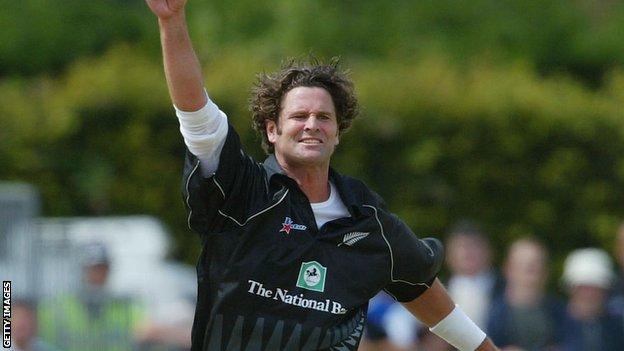 Former New Zealand all-rounder Chris Cairns has been told he will stand trial on perjury charges next October.
A preliminary hearing at Southwark Crown Court on Thursday bailed the 44-year-old until the new year.
The charges concern a 2012 libel action in the High Court in London where Cairns successfully sued Indian Premier League boss Lalit Modi over allegations he was involved in match-fixing.
He will return to court on 16 January for a plea and case management hearing.
A provisional date of 5 October 2015 has been agreed for the trial.
Cairns, from Herne Bay, Auckland, was awarded £90,000 in damages two years ago after allegations on Twitter that he was involved in match-fixing.
He has described claims he fixed matches as "absurd" and recently added that he would do "whatever it takes to again prove my innocence".
He was interviewed by police in London earlier this year at his own request over the latest claims, which he denied.
Chris Cairns's international career

Tests

ODIs

Caps

62

215

Runs

3,320

4,950

Batting average

33.53

29.46

Wickets

218

201

Bowling average

29.40

32.80
Cairns said in a statement earlier in the month that he was "extremely disappointed" to have been notified by the CPS that it was their intention to charge him with perjury.
"However, at least there will now be an opportunity to face my accusers in an open forum, with some rigour and proper process around that, so that I can clear my name once and for all," he said.
"I hope that, through this forum, significant additional information will be flushed out that will help people to better assess the situation, as well as the character and motives of the parties involved.
"I wish this wasn't the situation. Having been to court before, I know what lies ahead and how gruelling it will be and how tough it is on my family - but I have nothing to hide and I will do whatever it takes to once again prove my innocence."
Andrew Fitch-Holland, a London barrister who appeared as a witness for Cairns at the libel trial, also appeared in court to face one charge of perverting the course of justice.
The 49-year-old, from Saffron Walden, Essex, will return to court in January.
Both men had previously appeared in court on 2 October, when they were bailed until 16 October.
Cairns, an ex-Nottinghamshire player, son of former New Zealand all-rounder Lance, played 62 Tests and 215 one-day internationals between 1989 and 2006.