Kevin Pietersen claims 'bullying culture' in England dressing room
Last updated on .From the section Cricket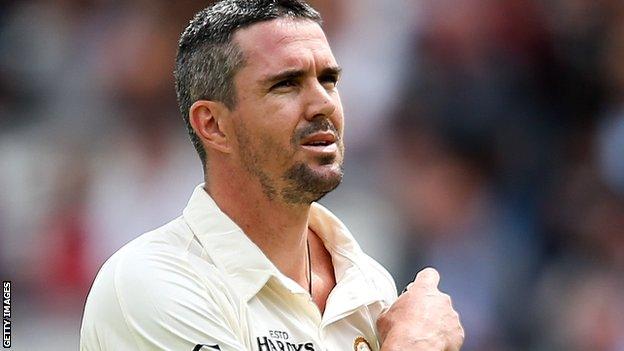 Former England batsman Kevin Pietersen says Matt Prior was a disruptive influence on the team and that ex-coach Andy Flower "ruled by fear".
England cricket chief Paul Downton said there has never been a formal complaint about bullying in the England team.
Former team-mate Graeme Swann described the claims as "codswallop".
Pietersen's new book is published on Thursday.
The England and Wales Cricket Board said it had yet to see the book, adding: "The publishers have declined to provide us with a copy before the official release date."
Pietersen's views on the England set-up
On former coach Andy Flower:
"He built a regime, he didn't build a team. I've told him this before. I told him during his coaching reign."
On wicketkeeper and former vice-captain Matt Prior:
"He's back-stabbing, he's horrendous, he's bad for the environment."
On senior players such as Jimmy Anderson and Stuart Broad:
"The bowlers were given so much power. But these guys ran the dressing room."
On learning of a parody Twitter account of him:
"I got told by a senior player that the account was being run from inside our dressing room. I was completely broken, absolutely finished, mentally shot."
Pietersen scored 8,181 runs at an average of 47 in 104 Tests and captained England in three Tests.
The South Africa-born batsman's England career was ended following a February meeting with the ECB which also involved captain Alastair Cook.
In the wake of the 5-0 Ashes defeat in Australia, Pietersen was told he was no longer part of the national team's plans and had his central contract terminated.
At the time, England and Wales Cricket Board managing director Downton said: "The time is right to rebuild not only the team but also the team ethic."
Part of the termination of his contract included a confidentiality agreement covering all parties, which expired at the end of September.
BBC cricket correspondent Jonathan Agnew
"Kevin Pietersen paints the picture of a dysfunctional and factional dressing room. He claims the man responsible for that is Andy Flower, while the bowlers - Jimmy Anderson and Stuart Broad in particular - forced the players to apologise to them if they dropped a catch. Matt Prior is accused of being a backstabber and bad for the environment. Pietersen claims Flower had it in for him for attempting to have him sacked in 2008. But it was Flower who brought Pietersen back into the team following the scandal over texts he sent to the South Africans in 2012."
Pietersen accused Flower and some senior players of overseeing "a bullying culture" in the England dressing room where players were forced to apologise if they dropped a catch or made mistakes in the field.
"He built a regime, he didn't build a team. He was the boss. He wanted me to fear him," said Pietersen.
Sussex wicketkeeper Prior, who is currently sidelined with an Achilles injury after taking a break from international cricket, received some of Pietersen's strongest criticism.
He objected to Prior's portrayal as a "team man" and claimed "a lot of people are very happy" the former vice-captain no longer has a central contract.
Prior, 32, tweeted: "Obviously sad to see the accusations against me this am and I WILL have my right of reply!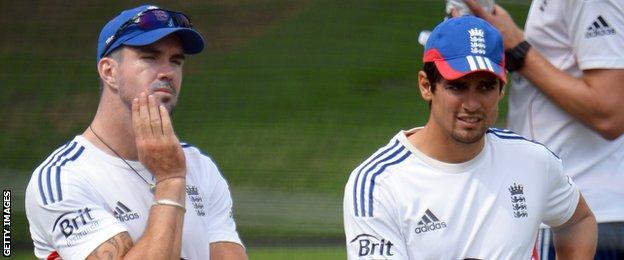 "However, today is not the day and Twitter is not the place for it! Now back to my Achilles rehab and learning to walk again!"
Pietersen offered support to Cook, who came under heavy criticism this summer and survived calls for him to be removed as skipper.
"I've got great admiration for him," said Pietersen. "I hate to see the way he was this summer.
"The ECB have put him in a very uncomfortable position and they could ruin his career."
Former England national selector Geoff Miller, who presided over team selection from 2008 to 2013, said: "To the best of my knowledge there was no atmosphere of bullying within the England set-up.
"What we tried to do as a selection unit was pick the best squad to create the best atmosphere to win matches."
Pietersen's Surrey and England team-mate Chris Tremlett said on Twitter: "Glad @KP24 has finally been able to give his side of the story. People can now make an informed opinion of what went on in the dressing room."