Kevin Pietersen stands by England bullying allegations
Last updated on .From the section Cricket
Kevin Pietersen says he stands by his allegations of bullying in the England camp and claims he regularly voiced his concerns to former coach Andy Flower.
Former team-mate Graeme Swann described Pietersen's accusations as "codswallop" while England managing director Paul Downton knows of no formal complaints.
But former batsman Pietersen told BBC 5 live: "It happened. Everything that's in this book, I can stand by 100%.
"Andy knows about it. I kept saying it to him day in, day out."
Pietersen said he regretted sending text messages about former team-mate Andrew Strauss to South Africa players in 2012, but denied they contained tactical information.
"That's absolute garbage, complete nonsense," he said. "It hits to the heart of your profession. It is not something I would do, it is a no-go area."
Pietersen, who scored 8,181 runs at an average of 47 in 104 Tests before he was sacked in February, claims England bowlers Stuart Broad and Swann were central to an "exclusive club" that ran the dressing-room.
In his book, to be published on Thursday, he says those outside the "clique" were "fair game for mocking, ridicule and bullying".
Asked why no-one else had spoken up, he said: "They have, they made a complaint to the coach and the captain and they talked to the team about it before a one-day international in Bangalore.
"But Swann and Broad disagreed with the captain and said: 'No, we demand an apology, we deserve an apology.'"
Pietersen, who earlier had spoken on the BBC's Breakfast TV programme, added: "There are players who are introverted in the dressing-room, batsmen who won't talk about it, but when they've finished they will."
Pietersen said he wrote the book to get his side of the story across following years of "character assassinations".
In a wide-ranging interview with Adrian Chiles on BBC Radio 5 live, Pietersen also talked about England wicketkeeper Matt Prior, the Twitter parody account that left him feeling "ruined", his approach to batting and why he still hopes to play for England again.
Pietersen on Prior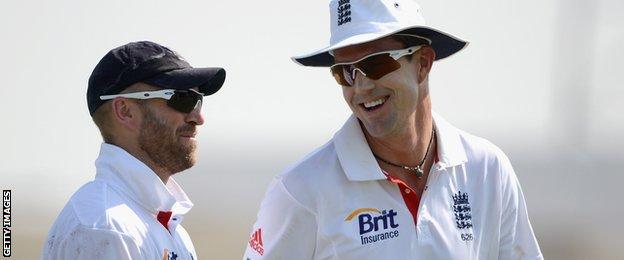 "I was the one who was made out to be this big brash person, but then I looked at the double-standards of the way Prior conducted himself in the dressing-room and talked to Andy Flower. Things were getting worse and when he got dropped he was an embarrassment in the dressing-room in Australia.
"I don't think I could have been that wrong because he doesn't have a central contract any more. England are finished with him."
On parody Twitter account 'KP Genius'
"They can be funny if they are run by someone outside the dressing room and making fun of you. When it is being run from inside the dressing room as I was led to believe, it paints a very different picture.
"These are guys you go to battle with, these are guys I share the dressing room with for days and days, for years and years and then I get this feeling of total horror when I find out this is going on. It is like when you lose your wallet or phone - that hollow, empty horrendous feeling.
"Why was that Twitter account buried by the ECB when they knew how it made me feel?"
On 'textgate'
"Let us just sort out the nonsense about tactical information. Absolute garbage. Complete nonsense. It hits to the heart of your profession. It is not something I would do, it is a no-go area.
"Second of all, why would I send tactical information when it was common knowledge around the world about how to get Andrew Strauss out? I didn't need to and it was a stupid stick to hit me with.
"There was a constant stream of messages and I know the theme of messages were not complimentary towards Straussy because of the way he had been treating me.
"It is something I regret because I got Andrew Strauss involved in a situation he should not have got into. I am really sad our relationship has got a bit iffy because of that."
BBC cricket correspondent Jonathan Agnew
"There is not much happiness in this book. It must have been an exhausting existence for Pietersen because it does seem to have been one long argument. While all these massive arguments were going on, England won the Ashes three times, it should have been a really joyful time, and it was for people who enjoy watching cricket and for the majority of those who were playing in it. But the book is a long gripe. He's not a happy chappy and yet he brought so much happiness to an awful lot of people."
On preparing for an innings
"I was watching the play on the television and going for a pee every two or three minutes because of the nerves inside me. Internally I was very nervous but also sort of in control.
"I would never turn up at a game knowing I had not practised brilliantly before that game. I have only once or twice gone into a game where I have felt uneasy about my practice. I have always felt if I work hard in practice, I can give my best in the most enjoyable part."
On his batting style
"My job in the England team was to be aggressive, my job was to take the attack to the opposition. My job in the batting order was to be positive. My job was to smash the bowler, put fear into the opposition.
"My job was to bat for three hours and change the game. All I can do is look back at my achievements and be happy with what has gone on."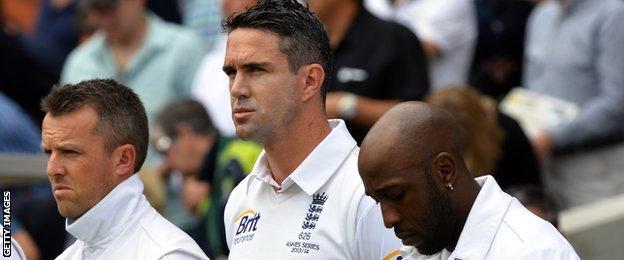 On playing for England again
"If somebody said there was a strong chance of playing for England I would leave this interview and go and play county cricket, any cricket and do it right now.
"I do love batting, I feel totally free when I bat. That is a decision I have to come to in a couple of months, to see what I want for my future now. It does look like the end of the road internationally. I have to basically map out what I want to do.
"I live knowing I came to England as an off-spinner, who was a number eight batsman who eventually ended up being England's greatest run scorer, so I live in hope."