Kevin Pietersen: ECB denies leaked document is Ashes dossier
Last updated on .From the section Cricket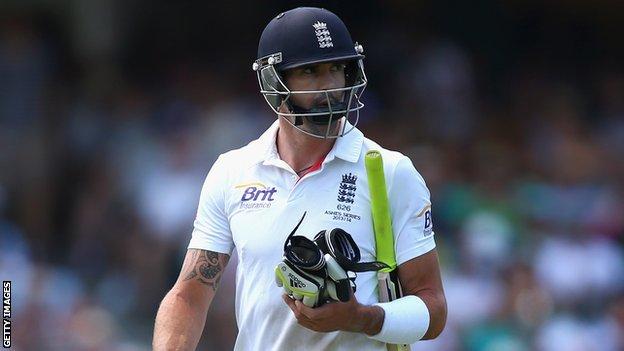 The England and Wales Cricket Board has denied that a leaked document is a dossier on Kevin Pietersen's behaviour during last winter's Ashes.
A five-page ECB list of misdemeanours supposedly committed by Pietersen, 34, on the tour was published by Cricinfo.
The ECB has since issued a statement which claimed it is a "private email" relating to "due diligence" by lawyers concerning Pietersen's autobiography.
"This document is not what it is purported to be," the statement said.
"It is simply a small part of a private legal email, compiling facts as part of the ECB lawyers' internal due diligence in preparation for the publication of Kevin Pietersen's book."
The document includes references to Pietersen's disagreements with former coach Andy Flower and team-mates such as Graeme Swann, and a match-long silence between player and coach in Sydney.
Pietersen responded to the document's publication on Tuesday night by labelling it "embarrassing".
"I don't want to comment on all that. It is a joke and embarrassing," Pietersen told the Daily Telegraph.
"They can't even spell Alastair Cook's name right."
Key statements in the leaked document
KP (Kevin Pietersen) stated that AC (captain Alastair Cook) was weak, tactically inept and that his latest effort to galvanise the team was "pathetic".
In Adelaide for the second Test, AF (coach Andy Flower) told players not to stay out late, which KP disobeyed by taking out two young players drinking with him until late (an incident which was front page news in the Adelaide press the following day).
Prior to the Perth Test, an England team physiotherapist approached AF (Andy Flower) to inform AF that KP had told him that KP was looking to do anything to go home after the Perth Test if England lost the match to go 3‐0 down. KP allegedly told the physio that if England lost the match, his knee was "going to be really playing up"
After playing a terrible shot to get out in one of his innings in the Fourth Test, KP returned to the England dressing room and in front of the younger England players, shouted "you lot are useless".
In his autobiography, to be published on Thursday, Pietersen referred to a "dossier" on his Ashes behaviour, adding that he would "love to see a copy" but had been told by the ECB "it does not exist" and also that there "would be nothing to fill a dossier with".
The governing body did not deny the existence of a fuller dossier, but said in a statement that the one published should not be equated in any way to a tour report by Flower on Pietersen.
South African-born Pietersen spoke in detail to the BBC on Tuesday about his allegations of bullying in the England camp and claims he regularly voiced his concerns to Flower.
Former England captain Michael Vaughan, who backed Pietersen's comments about England's bowlers being an intimidating clique, condemned the contents of the ECB document.
Vaughan said on Twitter that he had "never laughed so much" while reading the comments on Kevin Pietersen.
"And I presume every single player had a dossier on them from last winter, would only seem fair," he tweeted.
"I would love to know who leaked the dossier and how he or she thought it would help the situation. It's an absolute shambles."
Pietersen scored 8,181 runs at an average of 47.28 in 104 Tests before he was sacked by the ECB in February, following England's 5-0 Test defeat in Australia.