Kevin Pietersen: Graeme Swann denies England bullying claims
Last updated on .From the section Cricket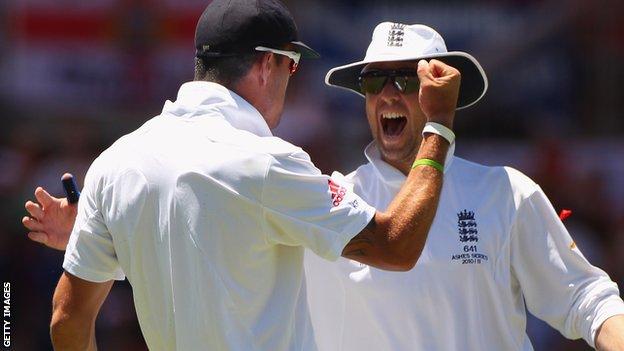 Former England bowler Graeme Swann has dismissed Kevin Pietersen's claims of bullying in the dressing room.
But Swann, 35, claims his former team-mate has given a false representation of what went on in the England set-up.
"There was absolutely no bullying," said Swann. "If you can find footage of any bowler having a go at a fielder for dropping a catch, I'll eat my hat."
Pietersen, 34, who scored 8,181 runs at an average of 47 in 104 Tests before he was sacked in February, accused Swann of being part of a bowling team "given so much power" that it "ran the dressing room".
Those outside the clique were "fair game for mocking, ridicule and bullying", claimed Pietersen.
But, writing in the Sun newspaper, Swann, who retired in December and is sixth on the list of England wicket-takers with 255 in 60 Test, responded: "Sure, bowlers shout at fielders if they are out of position or not concentrating.
"A bowler or wicketkeeper delivers a bit of a kick up the backside, just like a goalkeeper shouts at his centre-half. This is international sport, not the under-11s.
BBC cricket correspondent Jonathan Agnew:
"My view, having read the book and listened to Pietersen's interviews this week, is that the opinions on both sides of the debate will simply be entrenched further. Those who consider him to be a misunderstood genius that everyone was out to get will feel they are justified. And those who felt he wanted the world to revolve around him, that everything should be done on his own terms, will find plenty of material to back up that view, too."
Read more from Aggers
"If Kevin or other players can't take [that] they are in the wrong business."
Ashley Giles, Pietersen's former England team-mate and limited-overs coach, said he did not sense any unrest in the camp.
"I played in a dressing room with Kevin and got on very well with Kev, but similarly with those other guys as well," said Giles, who has been appointed as Lancashire's new head coach. "When I coached them I never had any major issues with any of them."
Giles, who described Pietersen as "a million pound asset" in January, added: "He'd still consider himself a multi-million pound asset I'm sure. He is that sort of player. He is the big show, if you like.
"But things have unfolded and he's not going to play for England by the looks of it again. I'm sure that's disappointing for him but everyone has to move on."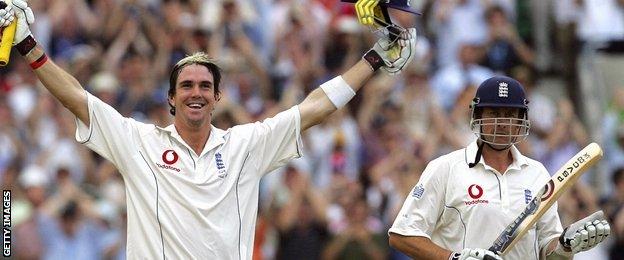 Former Australia skipper Ricky Ponting appears to have backed up Pietersen's claims, saying he witnessed the way England's bowlers reacted to mistakes in the field.
Ponting, who captained Australia between 2004 and 2011, told Australia's The Daily Telegraph: "We saw them doing it, [James] Anderson was always the same, and Swann.
"The pointing of fingers and you'd hear a few expletives if there was a misfield or a dropped catch.
"The guys who were doing it were the so-called leaders. That's where the captain has got to come in, not wait and let little things turn into big things. That's what it sounds like has happened in this England team."
Meanwhile, opening batsman Michael Carberry, who was an England team-mate during the Ashes tour, has voiced his support for Pietersen despite reports that Pietersen questioned his place in the side.
Carberry, 34, who also played with Pietersen at Hampshire, tweeted: "Just to set the record straight re Kevin. I've never had any issues with him. We have always got on well and still do."