Sohag Gazi & Prosper Utseya banned from bowling by ICC
Last updated on .From the section Cricket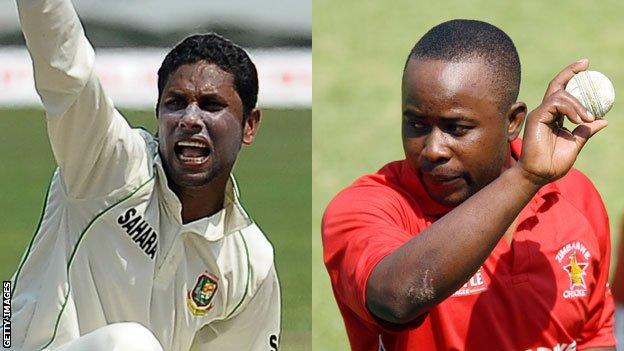 Bangladesh's Sohag Gazi and Zimbabwe's Prosper Utseya have both been suspended from bowling in international cricket.
The International Cricket Council (ICC) ruled that the duo, both off-spinners, exceeded the 15-degree limit of arm extension in their bowling actions.
Gazi, 23, and Utseya, 29, both had their actions reported in August.
In an apparent ICC crackdown, three other off-spinners have been banned for illegal actions this year, most notably Pakistan's Saeed Ajmal.
Sri Lanka's Sachithra Senanayake and New Zealand's Kane Williamson, were also reported and suspended this summer.
Meanwhile, Gazi's Bangladesh team-mate Al-Amin Hossain, a seamer, was reported to the ICC last month and must submit to independent analysis.
Several bowlers, including West Indies off-spinner Sunil Narine, were reported during the recent Champions League T20 competition, which is administered by the Board of Control for Cricket in India (BCCI).
However that only bars Narine and others from bowling in BCCI-run tournaments such as the Indian Premier League.
Players suspended from bowling by the ICC are permitted to apply for reassessment after modifying their actions.
Off-spinners under ICC scrutiny

Marlon Samuels

West Indies

Reported in November 2013; cleared in December 2013 (but banned from bowling quicker deliveries)

Shane Shillingford
West Indies
Reported in November 2013; suspended in December 2013; cleared to return in March (but banned from bowling doosra)

Sachithra Senanayake

Sri Lanka

Reported in June; suspended in July

Kane Williamson
New Zealand
Reported in June; suspended in July

Saeed Ajmal

Pakistan

Reported in August; suspended in September

Prosper Utseya
Zimbabwe
Reported in August; suspended in October

Sohag Gazi

Bangladesh

Reported in August; suspended in October