Kevin Pietersen row hurt England, says Andrew Strauss
Last updated on .From the section Cricket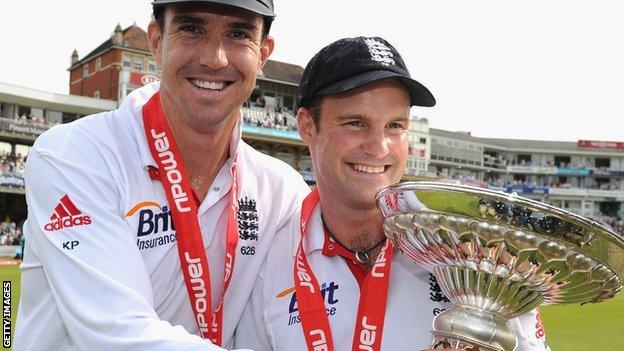 Ex-captain Andrew Strauss says the row over batsman Kevin Pietersen's claims of a "bullying culture" in the England dressing room has hurt the team more than any of the players involved.
"The victim here really isn't Kevin Pietersen, or Flower or Prior," Strauss told Sky Sports.
"It's actually the England team."
Strauss led a team containing Pietersen to England's first Ashes win in Australia in 24 years in 2011.
However, their relationship was strained the following year by revelations that Pietersen had sent derogatory text messages about Strauss to members of the South Africa team they were playing at the time.
Strauss & Pietersen in numbers

Andrew Strauss

Kevin Pietersen

100

Tests

104

7037

Runs

8181

21

Centuries

23

40.91

Average

47.28
Now a television commentator, Strauss - who captained England between 2009 and 2012 - later wrote in his own book that Pietersen "crossed the line" with the messages, and apologised after he was overheard using an offensive term in relation to Pietersen when he believed he was not on air while commentating on a match in July 2014.
Meanwhile, Pietersen told Talksport that he wanted to reconcile with Strauss.
"Straussy and I were incredibly good friends. We've got a patchy relationship at the moment, and I just wish I could give him a hug and say, 'man, can we just put this behind us?'" said Pietersen.
Meanwhile Strauss described Pietersen, who is his country's fifth highest Test run-scorer, as one of England's "finest players", but also defended those singled out in his fellow batsman's new book.
"Matt Prior had a massive impact on the English cricket team, both with the bat but also behind the scenes," said Strauss.
"He was very much the embodiment of the culture we were trying to produce, one of putting the team first.
"Andy Flower is a guy of complete integrity. If you look at his record as coach, it's second to none. He rightly should be regarded as one of England's great coaches."
Pietersen, who was told he would no longer be selected as England attempted to "rebuild their team ethos" in the wake of last winter's 5-0 Ashes whitewash in Australia, has described Prior as a "negative influence" and Flower as "contagiously sour, infectiously dour".