Can England's women learn from Australia's domestic game?
By Katie Gornall
BBC Sport
Last updated on .From the section Women's Cricket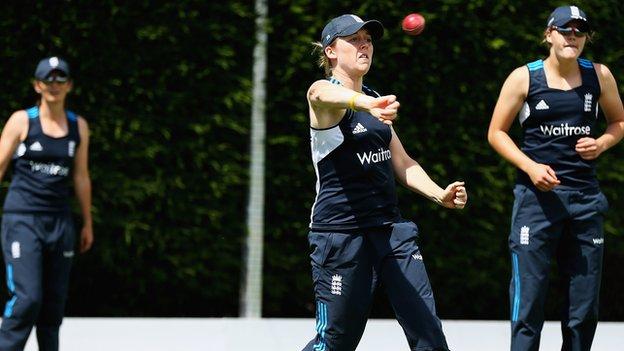 There was a time in women's cricket when the end of the summer signalled a return to the day job.
But this is a new era for the England team, which is why on a chilly October morning they are in the England and Wales Cricket Board's (ECB) high performance centre for the start of winter fitness testing. This is what professionalism looks like.
One of the coaches calls the squad together, 18 of whom were given full-time central contracts in May, a first for the women's game. He reads out an intimidating list of exercises they will be doing. There are tests of strength, speed and agility as well as something called the "yo-yo test" - think of the bleep test but worse.
England's head of women's performance Paul Shaw is watching on intently.
"In the past, many of them would have got back to their day jobs and then every three weeks or so we would have had a centralised camp here," he explained.
"So the big difference for me is the extra time that we get developing our players. We're already seeing positives."
England's centrally contracted professionals

Tammy Beaumont

Lydia Greenway

Laura Marsh

Katherine Brunt

Rebecca Grundy

Natalie Sciver

Kate Cross

Jenny Gunn

Anya Shrubsole

Charlotte Edwards

Danielle Hazell

Sarah Taylor

Georgia Elwiss

Amy Jones

Lauren Winfield

Natasha Farrant

Heather Knight

Danielle Wyatt
The progress in the sport has been rapid. England's players now enjoy greater funding than any other women's team in the country, but not everyone training here today is on a level playing field.
Four members of the squad are without central contracts and are here at their own expense, but England's new vice-captain Heather Knight is one of the lucky ones.
"I don't think it's changed the dynamic of the group. It is what it is," she said.
"Professional sport isn't always the easiest place to be sometimes. It's a brilliant group of girls and no on is going to let that affect our relationship. Everyone is just trying to make the most of [the contracts]."
Now, a career as a cricketer is a genuine option for girls starting out in the sport. But whilst those at the top prosper, there is concern that the gulf between the England players and those in women's county cricket is now wider than ever.
"I think naturally there is going to be a gap initially, because we'll be spending more time on improving our skills," says Knight.
"But I think the ECB have got county cricket on their radar and now the rewards are increasing at the top level, hopefully it'll keep more people in the game.
"I know the ECB want to pump some money into the county game and hopefully we can raise the standard of the whole game rather than just the top."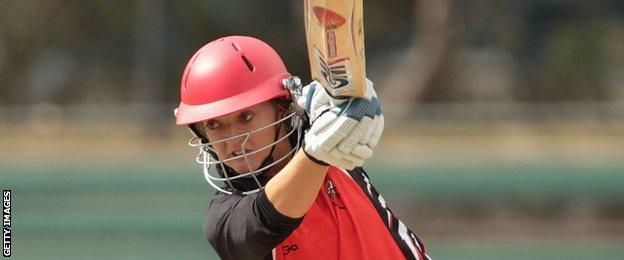 It is an area where arch rivals Australia lead the way, something Knight will experience when she heads to Tasmania later this month to spend the winter playing domestic cricket down under.
"I think it's no secret that state cricket is well ahead of our county game," she concedes.
"But obviously that's going to happen as there are only seven states and the top players are condensed into those seven states.
"Over here, we've got a lot of counties and it's more diluted. But it's a great set-up over there... and I'm really looking forward to it."
Knight will be joined in Australia by her England team-mates Sarah Taylor, who will play for South Australia and Charlotte Edwards who has signed for Western Australia.
All three will play for their state sides until Christmas before returning to prepare for England's tour of New Zealand in February.
Knight's first game in state cricket will pit her against the England captain.
"My first game is at the Waca, so that could be interesting. I know Lottie is captaining and she'll be keen to get a few over on my team I'm sure," she added.
The session at Loughborough University is drawing to a close. As her team-mates push themselves to the limit, Knight is the last one standing at the end of the yo-yo test.
If she brings that kind of determination to her cricket, then Edwards had better watch out.