Kevin Pietersen: David Collier dismisses bullying claims
Last updated on .From the section Cricket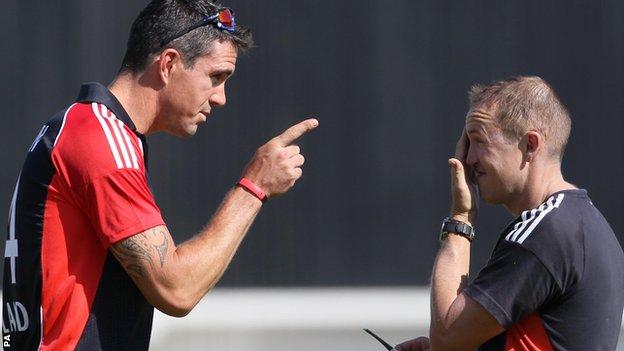 Ex-England cricket boss David Collier has dismissed bullying allegations made in Kevin Pietersen's autobiography.
Collier, chief executive of the England and Wales Cricket Board (ECB) until last summer, said concerns over bullying were never raised with him.
"There were a huge number of opportunities for it to be reported but that never happened," he said.
Pietersen, released by England, claimed former head coach Andy Flower had allowed a bullying culture to grow.
But Collier, who has been replaced at the ECB by Tom Harrison, told BBC Radio 5 live's Sportsweek programme: "In any professional sport certain managers and leaders do have intensity from time to time.
"People that we respect as some of the greatest football managers have been known to be fairly robust in dressing rooms.
"Andy Flower is an intensely passionate man, he has the most superb integrity.
"There is no way we could have had the success over his long and successful period if there hadn't been huge respect within that dressing room.
Pietersen's views on the England set-up
On former coach Andy Flower: "He built a regime, he didn't build a team. I've told him this before. I told him during his coaching reign."
On senior players such as James Anderson and Stuart Broad: "The bowlers were given so much power. But these guys ran the dressing room."
On learning of a parody Twitter account of him: "I got told by a senior player that the account was being run from inside our dressing room. I was completely broken, absolutely finished, mentally shot."
"In any professional sport players will get frustrated with each other - that's a fact of life. I didn't see that in any way affecting the team atmosphere."
Collier also said that allegations linking England players Stuart Broad, Graeme Swann and Tim Bresnan to a parody Twitter account had been fully scrutinised.
Collier said: "I have every confidence that that was fully investigated at the time, that assurances were given about that."