Moeen Ali & Ravi Bopara back ECB Asian initiative
Last updated on .From the section Cricket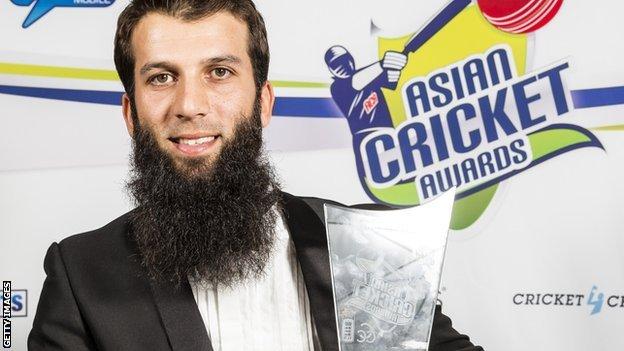 A love of cricket is, by and large, a given within the Asian community in Britain and yet relatively few have established themselves within the professional game.
An England and Wales Cricket Board survey, carried out last year, showed that 30% of those taking part in grassroots cricket come from a south Asian background, but that figure drops sharply to just 6.2% among players who appeared in first-team county cricket in 2014.
The ECB has acknowledged that work is required on its part, and are putting strategies in place to "identify and engage with 10,000 Asian cricketers' by 2017".
However, it could also be said that when trying to secure the long-term interest of young Anglo-Asian cricketers, role models like Moeen Ali and Ravi Bopara need to feature in the England team.
"Growing up I always wanted someone to be able to look up to," all-rounder Moeen, named Professional Player of the Year at the recent Asian Cricket Awards, told BBC Sport.
"Hopefully I can do a good job and stay in the England side for a long time and give young Asian kids a lot of encouragement and someone to look up to."
Moeen added that although young Asians were willing to work on the game's core skills of batting and bowling, fielding drills and fitness training were less attractive to many.
"I also feel we lose heart too quickly. A lot of people think it is easy to be a professional cricketer, but it is difficult. There is a lot of sacrifice and dedication," he said.
According to the 2011 census, the Asian community makes up 6.9% of the population of Great Britain, or 4.4 million people.
And the Club Cricket Conference, an association of 1,000 clubs in the south of England, believes the 30% figure from the ECB survey should in fact be closer to 40%-45%.
For many parents within that culture, though, business, finance or medicine have been the types of career they prefer their children to pursue.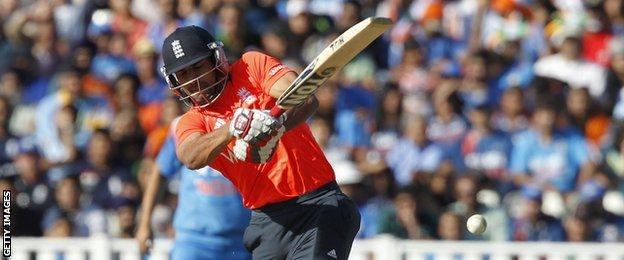 Bopara, a member of England's one-day squad for the series in Sri Lanka starting in November, hopes those attitudes may soon become a thing of the past and young cricketers will be given the support they need.
"I would hope Asian parents now see that playing professional cricket can give you a good living," the 29-year-old said.
"There are not enough Asian players that are good enough at the moment.
"They give up halfway and probably do not pursue it as far as they should. With anything in life, if you give up halfway then you are not going to make it."
While cultural upbringing may be part of the cause, the numbers suggest there are other reasons why so few Asian players make their way into the professional game.
Of the 18 first-class counties, five did not have any from Asian backgrounds in their team this summer and Wasim Khan, who was the first British-born Pakistani to play professional cricket in England and spent 11 years on the county circuit, believes better connections between clubs and the community need to be established.
"There is a huge amount of work to be done. The ECB have not been able to penetrate the Asian community market as much as they should be, both from a playing and business level," he said.
"They acknowledge they need to be revolutionary in the way they do things, rather than evolving at a gentle pace.
"With the strategy in place, there will hopefully be greater opportunities to unearth talent and find a pathway through for more people from south Asian backgrounds breaking through to professional cricket."
Throwing its weight behind the Asian Cricket Awards is one way for the ECB to foster connections at all levels, among volunteers, coaches and media as well as players.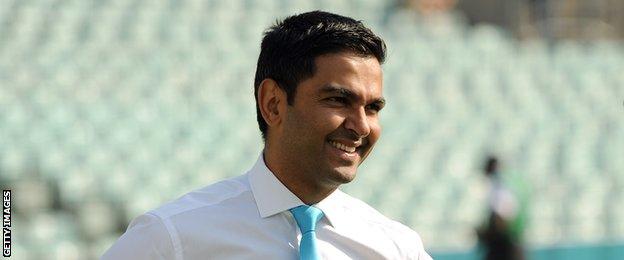 Awards co-founder Baljit Rihal believes that simply trying to attract more young Asian players into the county game does not go far enough.
"It is not simply looking at the players, but also at the hierarchy of the county boards and the ECB," he said.
"They need to be more representative and have faces from the Asian community."
Acting ECB chief executive Brian Havill agreed, adding: "Nights like the ACAs provide the ECB with the opportunity to get to know some of the best leagues and teams within the Asian community and give us a chance to start to work with them.
"We have been slow at being proactive and we realise we have to do far more.
"There is enormous potential with the number of people who play recreational cricket in the Asian Cricket Leagues, but there are not the same pathways as there are in other cricket leagues for the top players to progress."
Opening those pathways up will take time, but now clearance work appears to be firmly under way.