Phil Whitticase: Leicestershire scrap director of cricket role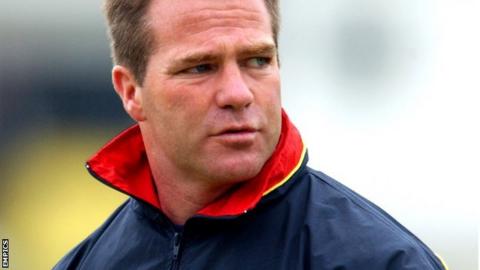 Leicestershire have scrapped the role of director of cricket, leaving Phil Whitticase's position unclear.
Interim chief executive Andrew Boyce told BBC Radio Leicester the decision was taken after a review of the coaching structure at Grace Road.
Former Leicestershire wickekeeper Whitticase became the club's first director of cricket in August 2013.
Boyce confirmed he had "technically been made redundant", but would not necessarily be leaving the club.
Leicestershire have failed to win a game in the County Championship for two full seasons, prompting several players to leave the club.
And a club statement said: "The position of director of cricket is being outstructured."
Leicestershire's decline since 2011 T20 Cup win
2012
Championship D2: 7th (W 3, L 3, D 10)
FL T20: 6th in group (W 2, L 7, NR 1)
CB40: 6th in group (W 3, L 6, NR 3)
2013
Championship D2: 9th (W 0, L 8, D 8)
FL T20: 4th in group (W 4, L 5, T 1)
YB40: 5th in group (W 5, L 7)
2014
Championship D2: 9th (W 0, L 10, D6)
T20 Blast: 8th in group (W 4, L 9, NR 1)
One-Day Cup: 5th in group (W 3, L 4, N/R 1)
The review meeting was extensive and will result in a second coaching structure change in as many years.
"We spent six hours looking at everything, in terms of game management, contract management, player management and it was decided we need to change," said Boyce.
"I think, structurally it wasn't quite right, the board thought it wasn't quite right and within the cricket review all the coaches also said that it wasn't right because they are the ones that are doing it day in and day out."
He continued: "That is not to say that Phil will be moving from Leicestershire County Cricket Club.
"What normally happens is we get the new structure in place, we look at the position rather than the people involved and that is part of the process that is ongoing at the moment.
"Phil has been a very valuable servant to Leicestershire over 30 years and deserves a proper consideration on his future which the club can support. That decision is one we will come to mutually."
Boyce on the future
"What we need to do at this moment in time is get some fresh blood in, new ways if thinking, a stronger mental attitude."
Boyce said the club has started its search for a person to fill the yet to be specified senior coaching role at Grace Road.
"We are nearly there with what the structure we will be going forward with, in terms of making sure that we have the appropriate resources at first-team level," he added.
"What we need to do at this moment in time is get some fresh blood in, new ways of thinking and a stronger mental attitude.
"If I had to look at person specification it would be somebody who has the right mental attitude, the right experience in terms of winning games, and is inspirational to a young set of lads."