BBC Sport - Stuart Broad dismisses Kevin Pietersen England bullying claims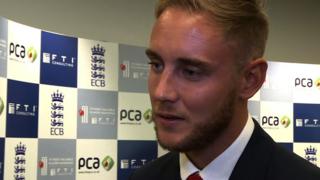 No England bullying culture - Broad
Stuart Broad says claims by former England team-mate Kevin Pietersen that there was a culture of bullying within the national side are not true.
In his recently published book, Pietersen claims England bowlers Broad and Graeme Swann were central to an "exclusive club" that ran the dressing room, and that those outside the "clique" were "fair game for mocking, ridicule and bullying".
But Broad said: "It's Kevin's opinion. You can't change that, but my opinion is that that didn't happen."