Northants: Stephen Peters chooses to stay with club
Last updated on .From the section Cricket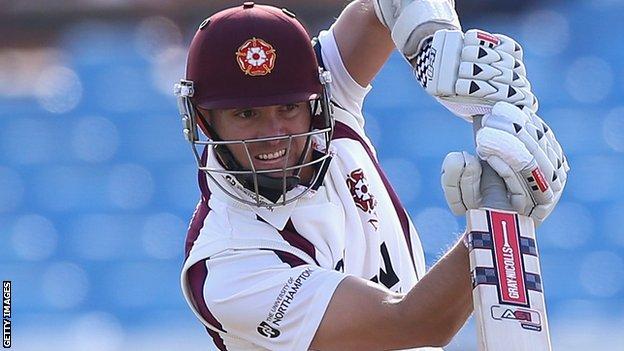 Northants batsman Stephen Peters has decided to play on for the county in 2015, despite being told he could speak to other teams.
Peters told BBC Radio Northampton: "I had some flattering offers and it's been a very difficult decision.
"But I love playing my cricket at the club, and I have done for nearly 10 years now."
He added: "I reluctantly put my details out to other clubs. But throughout a 20-year career, I've always gone with my heart. This is where I wanted to play my cricket next year."
David Sales has retired, and fellow experienced players James Middlebrook, Matt Spriegel and Andrew Hall have been allowed to leave.
"In the dressing room, there's no problems whatsoever," said Peters. "There's maybe decisions made off the field which have possibly raised a few eyebrows.
"I've been in sport long enough that when you have a bad season, there tends to be fallout. I don't always think it's necessary, but that's been the case this year.
"It's been really sad, saying goodbye to some top blokes and top-quality cricketers.
"I'm a big believer that you need some experience in the team, and that's one of the reasons that's made me want to stay. I think I can still play a huge role in the dressing room and in a young team next year."
Kyle Coetzer has also been made aware that Northants want him to talk to other clubs - and Peters accepts his own decision will not please everyone.
"It's been made evident to me that it's not the preferred choice of a couple of people at the club but ultimately it's my decision - I've got a year on my contract and I can decide where I play my cricket next year," he said.
"I know 12 months is a long time and a lot can change. But if things do go the way I've been told they will go, I'll enjoy my last season at the club. I'll be giving everything to make sure it's as enjoyable a season as I can have."