'Superstitious' Sachin Tendulkar did not watch India World Cup win
By Vikas Pandey
BBC Monitoring, Delhi
Last updated on .From the section Cricket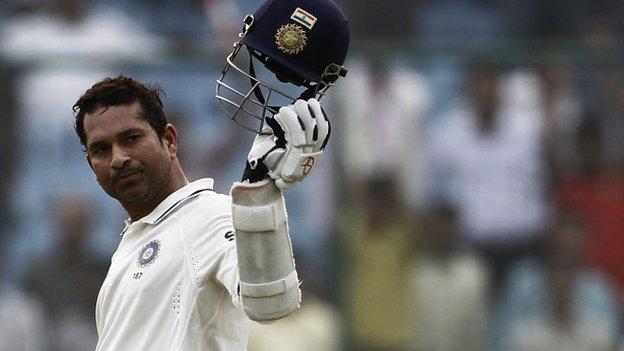 Indian great Sachin Tendulkar has revealed he missed watching the final moments of the 2011 World Cup win over Sri Lanka because of superstition.
"I was not watching it live even though I was inside the stadium. I was praying," Tendulkar said.
He was speaking at the launch of his autobiography in Mumbai on Wednesday.
"I was a little superstitious because when we were playing Australia in Ahmedabad, I was not watching - I'd put my head down on the massage table and was being attended to by the team physiotherapist. Viru (Virender Sehwag) had been sitting next to me. So I continued that in the World Cup final," he said.
Tendulkar shared this and many other anecdotes from his illustrious 24 years in international cricket during a glittering ceremony attended by several former captains, including Rahul Dravid and Sourav Ganguly, as well as celebrities and cricket officials.
The batting maestro announced he was quitting all formats of cricket in October last year and received a grand farewell in Mumbai's Wankhede Stadium.
The Chappell episode
In the book Tendulkar writes about former Australian cricketer Greg Chappell's controversial stint as India coach between 2005 and 2007.
Chappell had a public fallout with Ganguly and India failed miserably at the 2007 World Cup, with Tendulkar writing that the Australian had tried to persuade him to take over the captaincy from Dravid, who was Ganguly's replacement.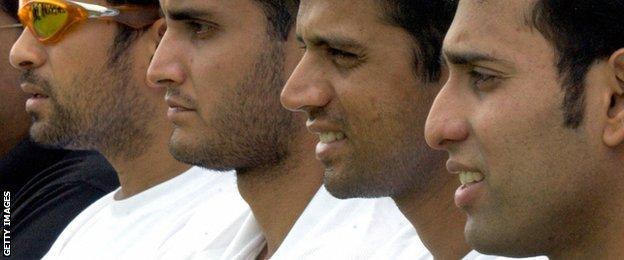 "I was surprised to hear the coach not showing the slightest amount of respect for the captain, with cricket's biggest tournament just months away. I rejected his proposition outright. He stayed for a couple of hours, trying to convince me, before finally leaving," he wrote.
"A few days after Greg had come to my house, I suggested to the BCCI [Board Of Control For Cricket In India] that the best option would be to keep Greg back in India and not send him with the team to the World Cup."
Chappell, however, has denied Tendulkar's claim.
When he considered quitting
Tendulkar also writes that he considered quitting the sport in March 1997 after the team lost against the West Indies under his captaincy.
The team had to chase a modest target of 120 in Barbados to win the Test but the wickets fell like a pack of cards and India were all out for a paltry 81.
It was not the loss, but the manner in which the team surrendered, that disturbed Tendulkar.
"Monday, 31 March 1997, was a dark day in the history of Indian cricket and definitely the worst of my captaincy career," he wrote.
"Frankly, there can be no excuses for such a poor batting effort, even though it was a difficult track. None of the batsmen apart from (VVS) Laxman even reached double figures in the second innings and it was one of the worst batting displays I have been part of," the excerpt reads.
BBC Monitoring reports and analyses news from TV, radio, web and print media around the world. For more reports from BBC Monitoring, click here. You can follow BBC Monitoring on Twitter and Facebook.