Guernsey Cricket team hope to play in Sussex league by 2016
Last updated on .From the section Cricket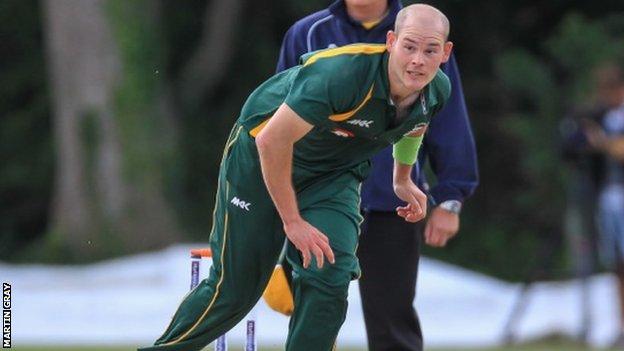 Guernsey are hoping to become the first Channel Island cricket side to play in an English league, by entering a team into the Sussex League by 2016.
The island already has strong links with Sussex, with some young players playing for the county.
"It will be 2016 at the earliest because of our ICC tournament commitments next year," said Mark Latter from the Guernsey Cricket Board.
"It is not something we haven't gone into without a great deal of thought."
The island plays international cricket as an associate member of the ICC and was in March.
They will follow the lead of Guernsey FC and the island's rugby club in playing in a league on the mainland.
"I think the key is that we have now got a player pool of 20 plus players and you couldn't go into it without that number," Latter added to the GCB website.
The GCB has yet to outline how it plans to meet the cost of sending a side over to the UK or whether they will have to pay for sides to come and visit Guernsey.
Guernsey FC, who play in the Isthmian League Division One South, have to meet the costs of all teams travelling to the island as well as their own expenses when going to England.
Guernsey's weekend league clubs previously played in the Channel Island League against Jersey sides, but that was after concerns over cost and competitive mismatches between sides.
The Sussex move has been backed by island captain Jamie Nussbaumer, who says the opportunity to play 50-over cricket away from Guernsey will improve their standards.
"We need to be playing together on a regular basis against good opposition," he said.
"At the moment we are playing a week-long tournament and then having a few months off as a team, before meeting up again for the next tournament.
"That doesn't help our consistency at all and if we can play on nearly a weekly basis in the UK as a Guernsey team, then it should remove many of the peaks and troughs."