Guernsey Cricket Board: Sussex league bid key for ICC funding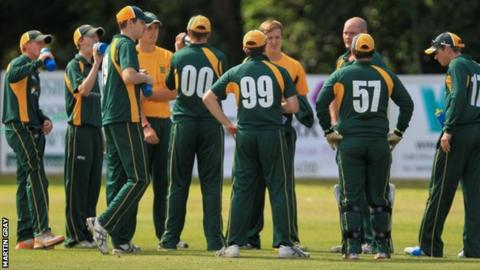 Guernsey's hopes of playing in the Sussex League are key to them continuing to get their ICC funding.
Guernsey Cricket Board chief executive Mark Latter says is vital to improve the island side.
Guernsey were in March.
"The ICC funding we get is based on a number of criteria, but one of the key parts is where you're performing at the highest stage," Latter said.
"If we don't get that right then the rest of the finances could fall behind, so there's an element of having to put funding in to make this happen, to ensure that the bigger block of the funding continues at the top end," he told BBC Radio Guernsey.
Guernsey are examining playing half a season in the Sussex League, which is between 10 and 11 games.
The cost of competing in those matches could be as much as £50,000 a season.
Mark Latter, Guernsey Cricket Board
"The performance in Malaysia suggests that it's something we need to do sooner rather than later."
"If all our games are there, we're probably looking at £3,000-£4,000 per trip, with an overnight stay being a necessity because of the length of a cricket game.
"It's not something we've jumped into without seriously considering."
Guernsey are an associate member of the ICC and are about to go into a new round of ICC funding which will set the budget for the island's cricket board for the next seven years.
The island's football and rugby teams already play in English leagues and Latter says that after Guernsey's dismal performance in World Cricket League Division Five in Malaysia, where they lost all five of their group matches, things had to change.
"We eventually decided that we're at the point where we've got the finances a bit straighter and it's something that we really need to consider if we're going to get our guys to play at a level that allows them to compete properly at the World Cricket League," he continued.
"The performance in Malaysia suggests that it's something we need to do sooner rather than later."