ICC says West Indies' withdrawal from India tour 'sad chapter'
Last updated on .From the section Cricket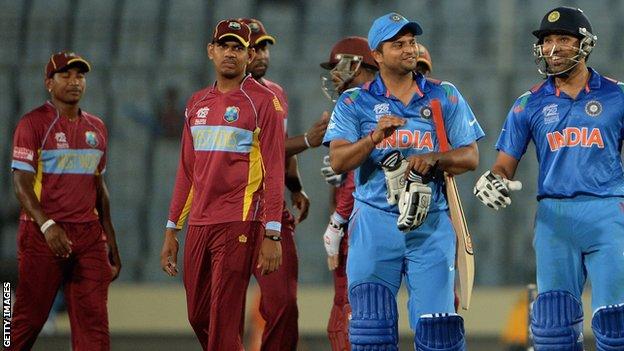 The International Cricket Council has called West Indies' withdrawal from the tour of India "unacceptable".
The ICC indicated that repeat behaviour would jeopardise players' chances of competing in lucrative tournaments such as the Indian Premier League.
"It was undoubtedly a sad chapter in our sport," said ICC chairman Narayanaswami Srinivasan.
The pay dispute between West Indies players and administrators saw the squad withdraw after the fourth one-day international, with one ODI, a Twenty20 international and three Test matches still to be played.
The West Indies Cricket Board has asked the Board of Control for Cricket in India (BCCI) for a "mutually agreeable solution" over its compensation demand for £26.2m.
Cricket's world governing body, currently meeting in Dubai, said in a statement on Sunday that players abandoning tours had the potential to cause "irrevocable damage" and could "adversely affect the financial viability of the sport itself".
"All member boards collectively expressed the view that they consider such player action to be extremely disruptive, damaging and unacceptable," added the statement.
"Players who behave in a similar manner in the future will not only risk breaching the disciplinary rules of the relevant member board and being sanctioned accordingly, but may also put in jeopardy their ability to conclude future contractual arrangements with domestic franchises or clubs in other jurisdictions."
The two-day ICC meeting ended on Monday with the announcement that the World Cup trophy will be shared by the finalists in 2015 if there is a tie, or no result.
It follows a decision to scrap the use of a super over for the final, semi-finals and quarter-finals.
The 2015 World Cup, to be held in Australia and New Zealand, takes place between 14 February and 29 March.