Sachin Tendulkar Q&A: Ex-India captain on career and retirement
Last updated on .From the section Cricket
Former India batsman Sachin Tendulkar is the highest run-scorer in the history of international cricket.
In a career that spanned 24 years, transcended the sport and led to him being revered throughout his homeland, the "Little Master" played in a record 200 Tests, scoring 15,921 runs, and in 463 one-day internationals, scoring 18,426 runs.
Tendulkar, who retired in 2013 and is now 41, spoke exclusively to BBC Radio 5 live and in a wide-ranging interview gave his thoughts on a variety of issues.
Life after retirement
"Life after retirement is hectic, but I'm enjoying it. I'm getting to know a different side of life. For 24 years I was focusing on cricket and nothing else. I feel the first innings of my life was playing cricket and chasing my own dream - and the dream was to win the World Cup. The second innings of my life, the post cricketing years, is to try and give back something to the people who have wished well for me."
Best moment
"To win the World Cup was my dream. I was patient. I didn't want to wait for 22 years to lift the trophy. We came close a couple of times. Finally, 2011 was a golden moment for me in my career. That is the best moment I experienced in my career. To be able to stand there in the middle of the ground with the entire nation celebrating and dancing, I can barely describe how excited I was. To put it into words is just not possible."
Sachin Tendulkar

Test runs

Test average

Test 100s

ODI runs

ODI average

ODI 100s

15,921

53.78

51

18,426

44.83

49
Was the pressure ever too much?
"Playing cricket was never a burden, it was a joy to be out there in the middle. People expected a lot from me and I enjoyed that because people felt that I could deliver. That inspired me to go out and push myself harder. If I did something well I wanted to better that. I was trying to find a reason to push myself hard and people helped me to push harder. Once I got out in the middle I forgot [the pressure]. It was just the bat and ball."
On hero worship
"I consider myself fortunate the people like me, people love me. It's a special thing. I'm blessed I think. God has been kind to me. I don't want to take anything for granted. I am only thankful to everyone for being so kind to me and it's never enough. I'm no cricketing god. I've made lots of mistakes on the field. I've loved playing cricket, but I'm normal Sachin and that's how it should be."
Dealing with nerves
"I was a nervous customer right from my school days. Later on in my career I got to know myself better and I said 'this is how I am'. I also used to have sleepless nights before games, thinking about the next day and how I was going to play. Then I figured out that this is the way my body prepares, so I started accepting that, embracing that, and it worked out well. It took me a while - 13, 14 years. I would be nervous until the time I faced the first ball. Once I faced the first ball I was OK, then my natural instincts took over."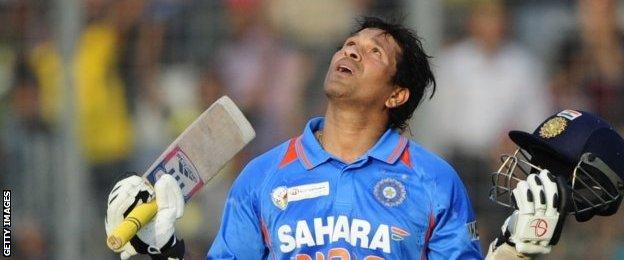 Getting the 100th international century
"Hundreds don't come easy - you've got to go out and get it. It was a difficult phase in my career [getting from 99 to 100, which took from March 2011 to March 2012] because everyone had started talking about it. People had become obsessed with 100 hundreds. The focus was only on hundreds and that started affecting me."
His best hundred
"The most meaningful hundred has to be the one I scored against England in 2008 in Chennai. This was after the terrorist attack in Mumbai and the whole nation needed something to divert attention, even if it was for a short span. It was a difficult period for all Indians across the globe. I felt really proud that I could do something to allow people to think about something else for a while. It allowed people to smile, which was an even greater satisfaction."
Regrets
"There were disappointments but it's a package deal and I wouldn't want to change anything."
On the future of Test cricket
"Test cricket is like a main course, and always will be - the other versions are like starters and desserts. Out of 10 cricketers, if you asked, I wouldn't be surprised if eight say that Test cricket is the top, then comes the rest."
Will his son follow in his footsteps?
"First cricket has to be in your heart, then it gets to your brain. The key is to be madly in love with cricket, which he is."