Pakistan spinner Mohammad Hafeez to face bowling tests
Last updated on .From the section Cricket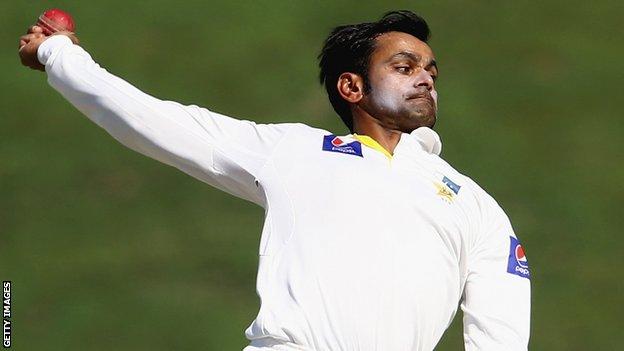 Pakistan off-spinner Mohammad Hafeez will fly to England next week for tests after he was reported for a suspect bowling action.
The 34-year-old all-rounder will be tested at Loughborough from Monday, the Pakistan Cricket Board confirmed.
Under International Cricket Council regulations, a bowler must be tested within 21 days of being reported.
Hafeez, who has played 39 Tests and 149 one-day-internationals, was dropped from the current second Test with New Zealand because of a hamstring injury he sustained after his action was reported.
He was named in the ICC ODI team of the year earlier this month.
Pakistan team manager Moin Khan said if declared fit, Hafeez will return to the squad for the remainder of the Test and ODI series in the UAE.
Hafeez, whose action was also reported during a domestic league game in India in September, could be suspended from bowling in international matches if he fails to clear the test.
Fellow Pakistan spinner Saeed Ajmal is currently suspended after he failed a biomechanic test in Brisbane in September.
Off-spinners under ICC scrutiny

Marlon Samuels

West Indies

Reported in November 2013; cleared in December 2013 (but banned from bowling quicker deliveries)

Shane Shillingford
West Indies
Reported in November 2013; suspended in December 2013; cleared to return in March (but banned from bowling doosra)

Sachithra Senanayake

Sri Lanka

Reported in June; suspended in July

Kane Williamson
New Zealand
Reported in June; suspended in July

Saeed Ajmal

Pakistan

Reported in August; suspended in September

Prosper Utseya
Zimbabwe
Reported in August; suspended in October

Sohag Gazi

Bangladesh

Reported in August; suspended in October

Malcolm Waller
Zimbabwe
Reported in November

Mohammad Hafeez

Pakistan

Reported in November