Cricket World Cup: 10 moments that shocked the tournament
By Sam Sheringham
BBC Sport
Last updated on .From the section Cricket53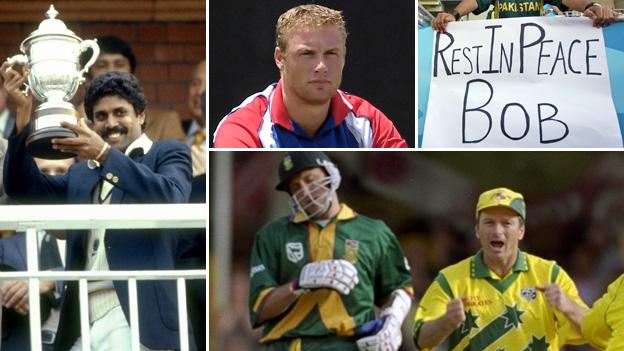 Cricket World Cup commentary
Date:
13 Feb - 29 March
Start:
21:45 GMT
Coverage:
Live commentary on BBC Sport website, BBC Radio 5 live and 5 live sports extra
From era-defining upsets to record-breaking feats, via a political protest, drug scandal and murder hunt, the Cricket World Cup has provided the backdrop to some startling storylines both on and off the field.
So, if the 10 previous tournaments are anything to go by, the 2015 World Cup is bound to throw up a jaw-dropping incident or two when it gets under way in Australia and New Zealand on 14 February.
Here, BBC Sport relives 10 moments that shocked the Cricket World Cup, with insights from those who were there.
You can listen back to the BBC radio 5 live programme 10 moments that shocked the Cricket World Cup, with Jonathan Agnew and Jim Maxwell.
England floored by pink-haired Irishman (2011)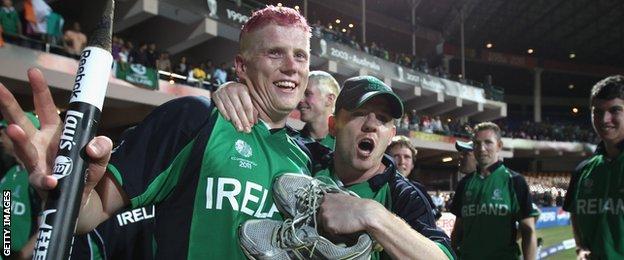 Kevin O'Brien, a club cricketer for Railway Union in his native Ireland, sent England careering off the tracks with the fastest century in World Cup history. With his hair dyed pink in the name of charity, O'Brien threw everything at an attack featuring James Anderson and Stuart Broad to help his side recover from 111-5 and overhaul England's imposing total of 327-8 with five balls to spare.
He struck six sixes and 13 fours, reaching his century in 50 balls, 16 fewer than the previous tournament record set by former Australia opener Matthew Hayden.
"I've always been quite a confident player and known I can make some big scores and clear the ropes, but I'd never really hit the ball as well as that, especially on such a world stage," O'Brien told BBC Radio 5 live. "When we won we just jumped around in the changing rooms like mad men, hugging, falling over chairs and everything. For four or five weeks, cricket was on the lips of every single person in Ireland."
Twenty-two runs off one ball (1992)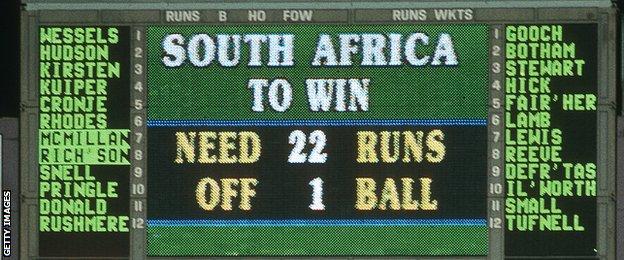 Appearing at the tournament for the first time following the apartheid ban, South Africa beat Australia, West Indies, Pakistan and India en route to the semi-finals. Their contest against England was bubbling up to boiling point when the rain - and the controversial rules - combined to produce the ultimate damp squib.
After a 12-minute rain delay, South Africa's target was adjusted from 22 runs off 13 balls to an impossible 22 off one, leaving the Proteas incensed and England embarrassed as they limped into the final.
"When it came to 22 off 13, we knew we were going to make it," said former all-rounder Brian McMillan, one of the two not-out batsmen at the crease. "After that is wet history. We knew the rules before the tournament started, but it doesn't make it any better. It was and still remains a bit of a con."
The Fredalo affair (2007)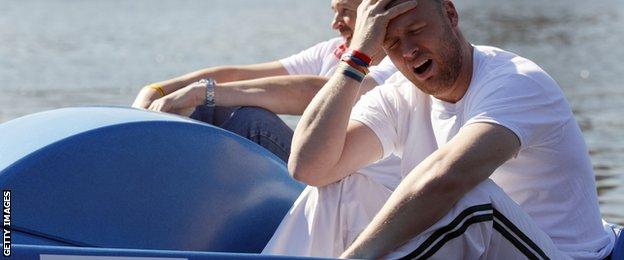 England's 2005 Ashes hero Andrew "Freddie" Flintoff dished up a textbook tabloid tale when he had a drunken run-in with a pedalo during the 2007 World Cup.
Following an eight-hour drinking spree with team-mates in St Lucia after England lost their opening match, Flintoff had to be helped by staff at a five-star hotel when he fell into the rough waters of the Caribbean Sea. As the term 'Fredalo' entered everyday parlance, he was stripped of the vice-captaincy and banned for one match.
"It was a real low point," Flintoff recalled in 2014. "I had this press conference and walked across the hotel reception - and the England fans, who were only months previously cheering my name and high-fiving me, were shaking their heads. I couldn't make eye contact with them and I thought 'this isn't good'."
Kapil's catch (1983)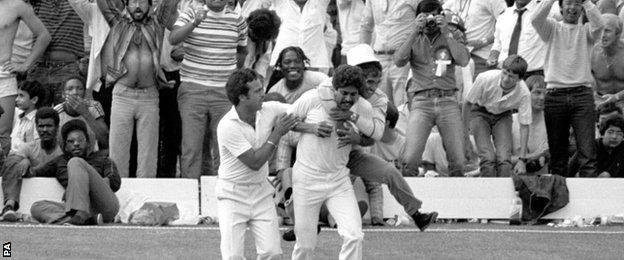 The first two World Cups went to form with West Indies, the dominant team of the era, winning the trophy at Lord's. Clive Lloyd's Caribbean kings were expected to make it a hat-trick at the same venue when unfancied India made it through to the 1983 final, but in one single moment the destiny of the match was transformed.
Viv Richards mistimed a hook over mid-wicket and sent the ball soaring into the sky. India captain Kapil Dev darted back from mid-on, trained his eye on the ball as it fell from the London sky and clasped it in his palms as it dropped over his shoulder. The Windies collapsed, India rejoiced and the country's love affair with one-day cricket was born.
"As Kapil Dev swirled and hovered, the whole of India held its breath," commentator Henry Blofeld told BBC World Service's cricket show 'Stumped'. "It was a fairly straightforward catch but I can't believe there was ever a more pressured one in World Cup history."
Shane Warne fails drug test (2003)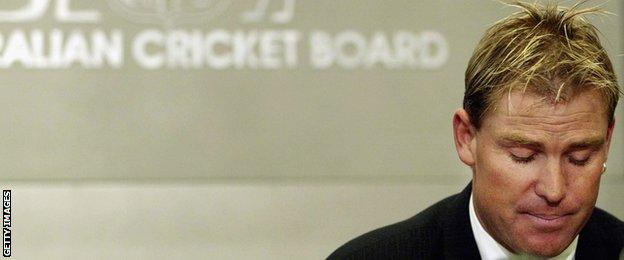 A decade after bursting into international cricket with the "ball of the century" to Mike Gatting, legendary leg-spinner Shane Warne was sent home on the eve of the World Cup in South Africa after testing positive for a banned diuretic.
The Australian insisted he had only taken the pill to help lose weight on his mother's advice, but the authorities imposed a 12-month ban and Warne never played another one-day international for his country.
"Every year we have a lecture on drugs," wrote captain Ricky Ponting in his World Cup diary. "I know I understand the issues well enough to check everything I take before I take it. That is common sense, and for Warney, who has been playing international cricket for over a decade, to ignore that approach is just madness."
Bob Woolmer's death (2007)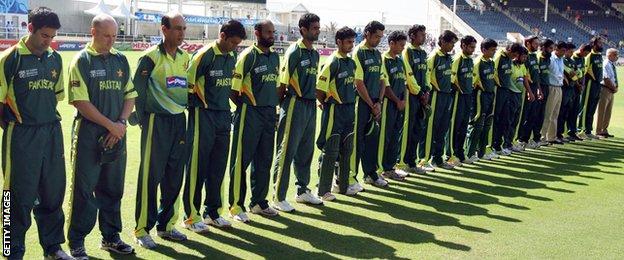 The World Cup became an international news story when Pakistan coach Bob Woolmer was found dead in his Jamaican hotel room the day after his team's shock defeat by Ireland. When local police launched a murder investigation, conspiracy theories abounded and fingers were pointed at players, fans and betting syndicates.
Three months later, Jamaican police announced that Woolmer had in fact died of natural causes, bringing the disturbing episode to a conclusion.
"It was a nightmare," recalled Pakistan captain Inzamam-ul-Haq. "Those final 10 days in the Caribbean were the hardest of my life. We went through hell. I don't know what has happened there but I can tell you it wasn't good for the players or for Pakistan cricket."
'The choke of the century' (1999)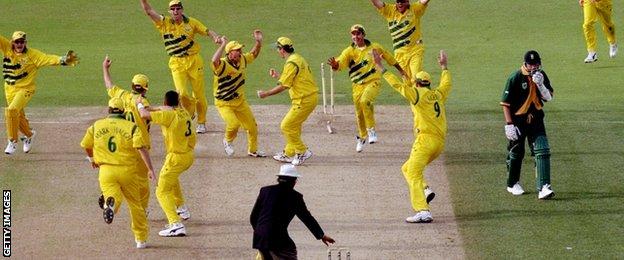 South Africa had already let Australia off the hook once in the Super Six phase when Herschelle Gibbs famously "dropped the World Cup", but that lapse paled into insignificance alongside their shambolic handling of a semi-final run chase. With South Africa nine wickets down and needing nine runs off the final over at Edgbaston, Lance Klusener smashed fours off the first two balls to level the scores, only for disaster to strike two deliveries later.
Klusener set off for a single, partner Allan Donald did not respond and was stranded in the middle when Adam Gilchrist whipped off the bails. As Australia advanced courtesy of their superior record in the group stage, South Africa's reputation for "choking" was well and truly established.
"This was not merely the match of the tournament: it must have been the best one-day international of the 1,483 so far played," wrote Wisden. "The essence of the one-day game is a close finish, and this was by far the most significant to finish in the closest way of all - with both teams all out for the same score."
'The death of democracy' (2003)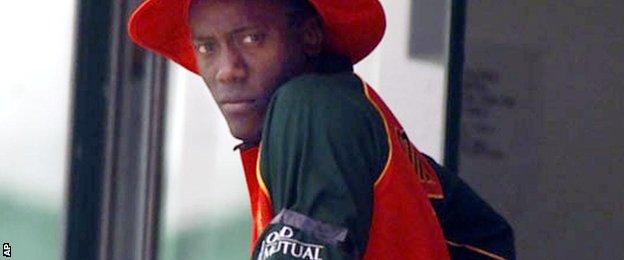 Andy Flower, Zimbabwe's most successful player, and Henry Olonga, the country's first black cricketer, made a courageous protest against President Robert Mugabe's oppressive regime at their team's opening World Cup match in Harare. They released a statement to journalists in which they denounced the "death of democracy" in their homeland and took to the field wearing black armbands.
While the players' actions drew the attention of the world to what they saw as human rights abuses taking place in their country, it also spelt the end of their international careers and condemned Flower and Olonga to a life in exile.
"We can't all change the world, but if we all do little things along the way and make the most powerful decisions we can then I think we can bring about change," Flower told the BBC in 2013. "Would I do it again? Given the same circumstances, without a doubt, yes."
De Silva lining for Sri Lanka (1996)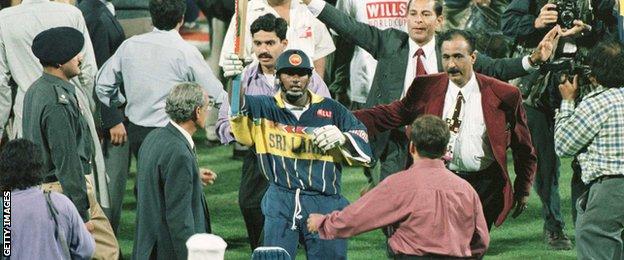 The Sri Lankans had only won four of their 22 matches in World Cups before co-hosting the tournament in 1996 but the decision by West Indies and Australia to boycott their group matches in the country on safety grounds assisted their surprise run to the final. Few gave them much hope against an Australia side featuring the Waugh twins, Ricky Ponting, Shane Warne and Glenn McGrath in Lahore.
However, an inspirational all-round performance from a 5ft 3in batsman shocked the favourites and brought unbridled joy to a war-torn nation. Aravinda de Silva prised out Mark Taylor, Ponting and Ian Healy with his off-spin before stroking an unbeaten 107 to secure the trophy.
"The winning run is what I remember the most," recalled De Silva. "We kept celebrating after that. I remember it continued for at least three more nights. The 1996 win gave a kick start to the sport in the country. Young boys just took to cricket and the popularity of the game rose."
And finally... Leverock's lunge (2007)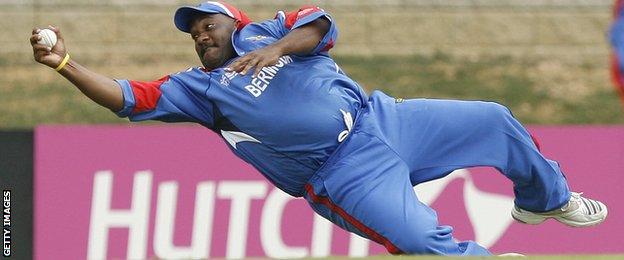 Bermudian jail officer Dwayne Leverock shocked - and shook - the World Cup when he threw his 20-stone frame to the right and plucked a one-handed catch out of the air to dismiss India's Robin Uthappa in the second over of their group match in Trinidad. Leverock wheeled away in celebration before collapsing in tears as his equally emotional team-mates piled on top of him.
Leverock, who also dismissed England's Kevin Pietersen and Paul Collingwood with his left-arm spin in a warm-up match, was named Sports Personality of the Year and Athlete of the Year on his return to Bermuda.
"As soon as it came off the edge, I said to myself, I'm going to go. I'm going to give it all I can," Leverock told BBC Radio 5 live. "People still talk about it and reminisce about the catch. I have a picture of the moment in my living room so I just glance at it and think of the memories. It feels really good."