Australia v India: Michael Clarke doubtful with hamstring injury
Last updated on .From the section Cricket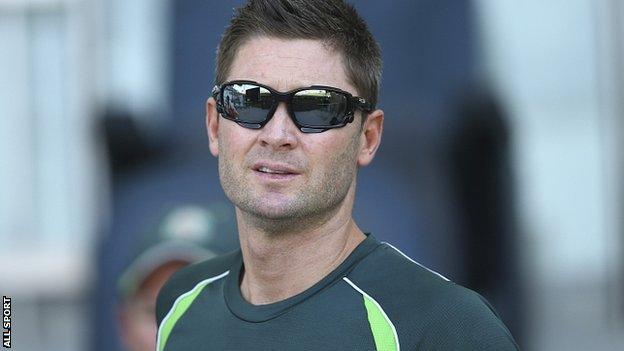 Captain Michael Clarke remains doubtful for Australia's first Test with India in Brisbane which starts on 4 December.
Clarke was named in a 12-man squad with the proviso he played in a two-day tour match with India on Friday to prove his fitness after hamstring trouble.
The 33-year-old said medics had ruled him out for the tour match but he would play for his Sydney club on Saturday.
"Hopefully I can make myself available, then it is up to the selectors to work out what to do," he said.
"I would never walk out onto that field, whether it's for my state, my club or country, if I am not 100%."
Late on Monday, Cricket Australia said Clarke needed to play in the Adelaide tour match to prove his fitness.
"If he is not able to get up for the CA XI game, and given his history with this recurring injury, he will be ruled out of any cricket this week and the first Test and our focus will shift to getting him fit to play the second Test in Adelaide commencing on Friday 12 December," it said in a statement.
Clarke, who has scored 8,297 runs in 107 Tests, suffered a hamstring injury directly before a one-day tournament in Zimbabwe in August and September.
The problem resurfaced and he also missed a one-day series against Pakistan in the United Arab Emirates in October.
The Australian captain last aggravated the injury in the opening one-day international against South Africa in November, forcing him to miss the rest of the series while putting his hopes of playing against India in doubt.
He has repeatedly been urged to quit one-day cricket to prolong his Test career but when asked if he had any plans to retire in the next 12 months, said: "No I don't.
"My goal is to continue to play for Australia for a lot longer. I love both forms of the game."
In the absence of regular captain MS Dhoni, India will be led by batsman Virat Kohli at the Gabba.