Phil Hughes: Australia cricketer critically ill after being hit by ball
Last updated on .From the section Cricket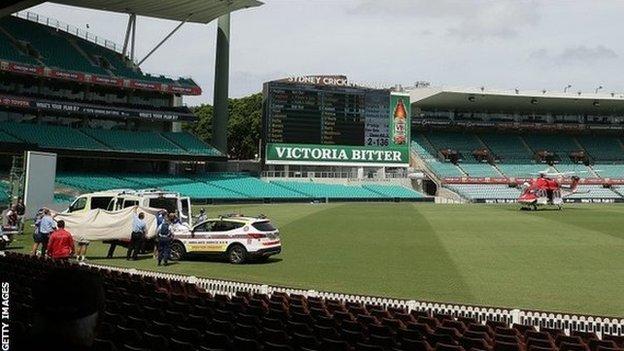 Australia batsman Phil Hughes is in a critical condition after being hit by a bouncer at the Sydney Cricket Ground.
The South Australia left-hander, 25, collapsed after a delivery from New South Wales bowler Sean Abbott struck him on the head, missing his helmet.
Hughes was carried off on a stretcher and taken to hospital where he was put in an induced coma following surgery
Cricket Australia team doctor Peter Brukner said there would be no update on his condition until Wednesday.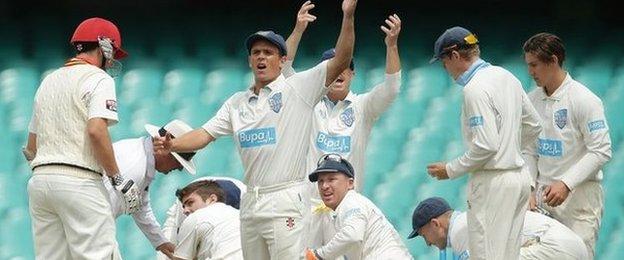 Australian media reported that Hughes stopped breathing at one point and needed mouth-to-mouth resuscitation at the side of the pitch.
Cricket Australia said on its official website that Hughes had been "struck on the back, lower left side of the head".
It said no blame could be attached to Abbott, a 22-year-old who made his Australia debut last month.
Brukner said in a statement that Hughes had "sustained a severe head injury" and "remains in a critical condition" after surgery at St Vincent's Hospital in Sydney.
"Unless there is any significant change there will be no further updates on his condition until tomorrow," added Brukner.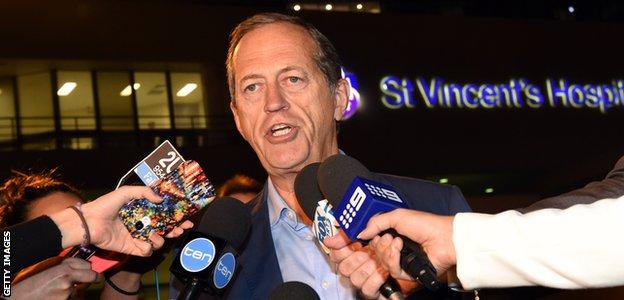 "Phillip is receiving the best possible medical care. The thoughts of his team-mates and the wider cricket community are with Phillip and his family and friends at this difficult time."
Hughes, who has played 26 Tests, made his Test debut at the age of 20 against South Africa in 2009.
In only his second match, he became the youngest batsman to post two centuries in a single Test.
He played county cricket for Hampshire, Middlesex and Worcestershire and shared in a then world record 10th-wicket partnership of 163 with Ashton Agar against England in the 2013 Ashes series.
Having returned to the one-day side against Pakistan in the United Arab Emirates last month, Hughes was in contention for a possible Test recall following reports that Australia captain Michael Clarke might be ruled out of the first match against India on 4 December.
But he was hit on the side of the head as he tried to turn away from a short ball by fast bowler Abbott and was immediately surrounded by opposition players and umpires, who called for help.
A helicopter arrived, but Hughes, who had scored 63, was taken to Sydney's St Vincent's Hospital by road and a doctor who treated the player at the scene accompanied him, Australian media reported.
Phil Hughes at international level

Tests

ODIs

Twenty20

26

25

1

1,535 runs

826 runs

6 runs

average 32.65

average 35.91

average 6.00
The Sheffield Shield match was abandoned.
Peter Lalor, senior cricket writer for the Australian newspaper, told BBC Radio 5 live Hughes "looked stunned" immediately after being struck.
"We assumed he was going to shake it off, but he fell sickeningly into the pitch," added Lalor. "His hands didn't come out to break his fall and then we knew it was pretty serious.
"Possibly the worst part of it was they had to give him mouth to mouth in front of the members' stand because he wasn't breathing.
"He is one of the most respected and liked kids in Australian cricket, he doesn't have an enemy in the game, he's great company."
Cricket Australia chief executive officer James Sutherland said: "Our thoughts and prayers are with Phil Hughes.
He added: "His welfare is our highest priority. We are also thinking of his family, team-mates and friends in the Australian cricket family. We're also naturally concerned about all of those involved in today's game and will be giving them our utmost support."
Australia coach Darren Lehmann was among many people to register his support for Hughes, writing on Twitter: "Our thoughts and prayers are with Phil and his family. He is a great fighter and a great young man."
For more reaction, click here.