Phil Hughes: Batsmen never totally safe - PCA chief Angus Porter
Last updated on .From the section Cricket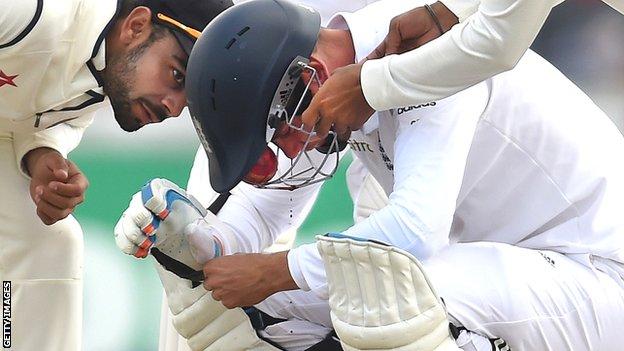 Batsmen can never be guaranteed of total safety from fast bowling, Professional Cricketers' Association chief executive Angus Porter believes.
Australia left-hander Phil Hughes, 25, is in a critical condition after being hit on the side of the head batting in a Sheffield Shield match in Sydney.
"We are not able to eliminate injuries completely," Porter said.
"What we have to do is to make sure the helmets are as well designed and offer as much protection as they can."
Hughes, who was batting for South Australia, was hit on the side of the head as he turned away from a short-pitched delivery from New South Wales paceman Sean Abbott which it is believed may have missed his protective helmet.
"Helmets unfortunately are no guarantee of immunity from injury," Porter told the BBC's News Channel.
"What we can do is to make sure the grill at the front of the helmet is as rigid and offers as much protection as it can and that the side and the back of the helmet also do their job.
"We'll need to work through what has happened in this case to see whether there is anything new that we can learn from it.
"I don't want to give the impression that we're doing nothing in terms of helmet design.
"There is a new British standard which has been implemented recently which tests much more rigorously the performance of the grille and the rigidity of the whole helmet construction.
"It's hard for me to tell but I don't think Phil was wearing one of the very newest designs of helmet, and I think had he been, he would probably have had a greater degree of protection."
Hughes' helmet manufacturers Masuri confirmed the batsman was not wearing the company's latest equipment but said no helmet could guarantee 100% protection.
"It appears that Phil Hughes was struck by the ball to the rear of the grille and below the back of the shell, missing his [2013 model] Masuri Original Test helmet," a Masuri statement read.
"This is a vulnerable area of the head and neck that helmets cannot fully protect while enabling batsmen to have full and proper movement."
Safety procedures in domestic and school cricket
England and Wales Cricket Board guidelines stipulate helmets should be worn by all batsmen under the age of 18.
England batsman Stuart Broad suffered a broken nose against India last summer when he top-edged a Varun Aaron bouncer that squeezed between the grille and peak of his helmet.
Former Yorkshire batsman Chris Taylor, an ex-England Under-19 international, now runs leading retailer All Rounder Cricket in Leeds, and said: "I know cricket manufacturers and helmet manufacturers are working all the time to improve the safety of helmets and I know a new British safety standard has been launched in the UK for the 2015 season where helmets have to have fixed grilles.
"I work closely with some of the helmet companies and they are always working, they have to achieve this British safety standard."
Simply extending the helmet so that it covers the neck is impractical, Taylor believes.
"Once the helmet starts trying to cover the neck as well, if that's where Phil Hughes has been hit, it's going to restrict your movement as a batsman," he said.
"You need to be able to move quickly so if it's restricting your head and your neck, we could get to the stage where you just wear full body armour because at the end of the day you can get a blow on your chest that can cause you serious problems.
"My understanding is it hit him at the worst possible place at the wrong angle and it is extremely unlucky."