England v Sri Lanka: Moeen Ali electrifies but problems remain

By Simon Hughes
BBC Test Match Special
Last updated on .From the section Cricket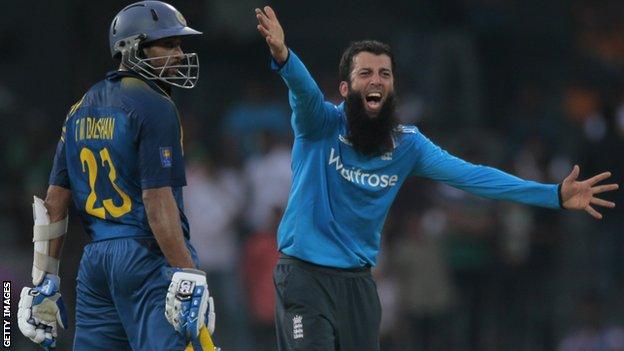 'The Analyst' and BBC Test Match Special commentator Simon Hughes will be providing regular pieces for the BBC Sport website and TMS throughout England's one-day international series in Sri Lanka.
Ambition is infectious. The sight of it imbues others with extra confidence. That is the Moeen Ali effect.
His cricket tangibly uplifts England. When he's involved - batting or bowling - the players have an extra spring in their step; their efforts are loaded with expectation; opponents visibly wilt. But natural talent is not enough. England need to play smarter cricket too. That's what this one-day international tour of Sri Lanka is about.
In Wednesday's first game, Moeen came on to bowl in the 14th over with the hosts on 74-0 and he immediately stemmed the flow.
He varied his pace cleverly and no liberties were taken by either of the Sri Lankan opening pair - and when Kusal Perera ran himself out, it took Moeen just two balls to dismiss the highest-ranked Test batsman in the world, Kumar Sangakkara, with a sharp turning delivery that pinned him lbw.
Fastest England ODI centuries
61 balls:
Jos Buttler v Sri Lanka, Lord's 2014
69 balls:
Kevin Pietersen v South Africa, East London, 2005
72 balls:
Moeen Ali v Sri Lanka, Colombo, 2014
74 balls:
Ravi Bopara v Ireland, Malahide, 2013
It was the third time Moeen had dismissed the Sri Lankan master cheaply in three innings. He can almost call him his bunny. Subsequently, the Sri Lankan innings lost its momentum - though it regained it in the last 10 overs, and England conceded 30 runs too many.
When England batted, Alastair Cook struggled. The only reason he lasted as long as he did was thanks to the Decision Review System. But as soon as Moeen took strike, the innings came alive. He uppercut his first ball over gully for four and unfurled some gorgeous, creamy drives.
In the same over that Dilshan dismissed Cook, Moeen attacked him, not letting him build pressure.
England's one-day series in Sri Lanka

Date

Game

Venue

26 November

1st ODI (lost by 25 runs)

Colombo

29 November

2nd ODI

Colombo

3 December

3rd ODI

Hambantota

7 December

4th ODI

Colombo

10 December

5th ODI

Pallekelle

13 December

6th ODI

Pallekelle

16 December

7th ODI

Colombo
Nonchalantly, almost effortlessly, he stroked 10 boundaries off his first 25 deliveries with silky timing. The Sri Lankans didn't know where, or who, to bowl. Ian Bell was suitably electrified, looking more proactive than usual and England found themselves 107-1 from 15 overs - comfortably up with the required rate.
But Moeen was making it look so easy, the remaining batsmen tried to do too much too soon.
England's stated intention to "be aggressive" in one-day cricket is not just the right way, it's the only way. Scores are soaring with the reduction of the number of boundary fielders and the ever-increasing range of batsmen. Nobody can afford to potter around at the crease.
The batsmen must be positive at all times. But they must think more carefully too and read situations better. It is not easy scoring six an over when you first go in against crafty Sri Lankan spinners finding some turn.
England's middle order - Eoin Morgan, Jos Buttler, Ben Stokes and Chris Woakes - tried to run before they could walk. They didn't take sensible responsibility and lost vital wickets. They left Ravi Bopara too much to do.
England's successful 300+ run chases
306-5
v Pakistan in Karachi, 2000
301-9
v West Indies in Bridgetown, 2007
England consistently fail to chase scores over 300. (They have only achieved it twice.) There are two reasons: lack of substantial scores at the top of the order and the inability of the middle/lower order to calmly, but effectively, maintain the required rate.
They have found someone to solve the first problem, but not the second.