England should have won after Moeen Ali ton - Alastair Cook
Last updated on .From the section Cricket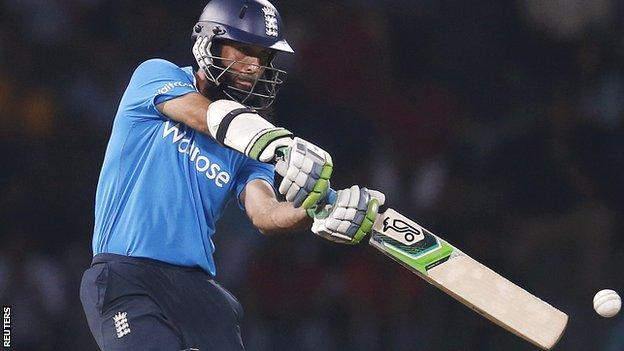 England captain Alastair Cook urged his side to "get savvy with the ball" after losing another one-day international in which they scored a quick century.
Moeen Ali hit the third fastest England ODI century on his way to 119 from 87 balls but the tourists lost the opening match against Sri Lanka by 25 runs
"Moeen showed us the way, it's just frustrating because we are not putting a whole game together," Cook said.
"When someone gets the third fastest hundred you should win the game."
He added: "It's been happening for a while."
Test Match Special commentator Simon Hughes:
"Moeen Ali's cricket tangibly uplifts England. When he's involved - batting or bowling - the players have an extra spring in their step. But natural talent is not enough. England need to play smarter cricket too."
Read more from "The Analyst"
It was a spectacular maiden century from Moeen, in only his sixth ODI, but England were still beaten in Colombo, just as they were against the Sri Lankans at Lord's in May when Jos Buttler scored their fastest one-day hundred.
Cook won the toss in Colombo but England conceded 17 wides as Sri Lanka posted 317-6.
After opener Moeen departed in the 31st over, Ravi Bopara added 65 from 62 balls before he was the last wicket to fall.
"Our wides I think cost us. Including the extra balls, that's probably another 30 runs and we lost by about 30," Cook said. "But there's a lot of really good things in terms of how we attacked with the bat. We just need to tighten up and get savvy with the ball."
Moeen said: "I'm very disappointed that we lost the game. Our planning was to stay in the game as long as we can. The problem was we lost one or two wickets too many.
"I feel good, I'm very happy opening the batting, I feel like everyone's backing me to go out and express myself. I enjoy playing shots, I feel like I can play even better than that, but that was nice."