Phillip Hughes: A cruel termination of a beautiful life - Simon Hughes

By Simon Hughes
Analyst and former bowler
Last updated on .From the section Cricket
It could have been me. During a 13-year playing career I bowled bouncers - hundreds of them. Hit a lot of batsmen. Top players. Robin Smith, Barry Richards, New Zealand opener Trevor Franklin, Gloucestershire stalwart Phil Bainbridge.
All hit on the head. There were others too. None, fortunately, seriously injured.
A fast bowler's job is to intimidate, instil a little bit of fear into a batsman. It is an accepted part of the game.
You follow a fast bouncer down the pitch with a stare and maybe a word or two. 'Not so cocky now are you mate?!' or 'Did you smell the leather?'
Something like that. You want him to respect you, be apprehensive, nervous even. You want to take his wicket. You do not want to cause him severe pain.
Seeing a batsman - like one of the above - struck down, injured, left me with a sick, ashamed feeling. Cricket is one tight-knit, inclusive family, and maiming a fellow player is like harming a relative, or one of your kids.
You instantly regret bowling that bouncer. You want to take it back. But you can't.
The death of Phillip Hughes to the bouncer bowled by Sean Abbott was a freak, tragic accident. It is a terrible fate to befall Hughes and his family. A cruel termination of a beautiful life.
But it must be horrendous being Abbott too. The 22-year-old will blame himself for what has happened. He will think the loss of Hughes is all his fault. And he has to live with that.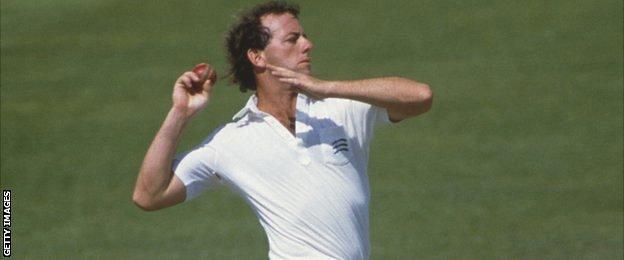 In truth it is remarkable this hasn't happened before. Hundreds of bowlers have hit hundreds of batsmen.
Many weren't even wearing helmets. I was hit square in the middle of the forehead (by the fast bowler Neal Radford) wearing just a cap. The ball went back to the bowler. I, like so many others, was lucky. I wasn't badly injured.
Helmets were only rudimentary back then in the 1980s. They often cracked or fell apart. Many head injuries were sustained in spite of wearing them. None, fortunately, were fatal. Helmets now are far better.
They are so good in fact that they have instilled in batsmen a false sense of security. There are happy hookers everywhere. And very few injuries.
The design of helmets has to accommodate safety and comfort. It's a balancing act. Batsmen have to be mobile, flexible. They are not stationary targets.
There will be a review of their design now, but, in view of the relative absence of serious injuries compared to 20 years ago - in spite of the number of batsmen struck - that balance is about right.
Cricket is as safe a game as it's ever been. All kids have to wear helmets when batting. I'd rather mine played cricket than rugby.
The chances of being killed by a bouncer are one in 10 million. Tragically, Phillip Hughes was that one.