Phillip Hughes: Australia united in grief after batsman's shock death

By Alison Mitchell
BBC Sport
Last updated on .From the section Cricket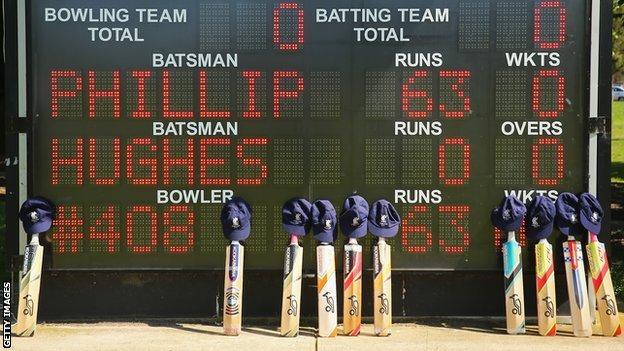 Summer in Australia means cricket. That's just the way it is. Footy boots are put away and cricket bats come out. The seasons mean a set of bat and stumps is the perfect present from Santa.
Those bats, a symbol of carefree fun in the sun and of a young kid's dream, now symbolise the life of Phillip Hughes, who died on Thursday playing the sport he loved; the sport millions of Australians love.
Those bats, of all brands and sizes, are now standing proud in the windows of shops, homes and offices across Australia. They are leaning against the back gate, propped against a stump in the middle of a suburban park or resting against a gum tree with a well-worn club cap dangling over the handle.
They are part of the social media campaign - with people posting photographs using #putoutyourbats and #putyourbatsout - which has swept across the country and around the world, as a way of paying respect.
Cricket Australia displayed 63 bats in the windows of its headquarters in Jolimont Street in Melbourne - 63 being the score Hughes was on when he was struck that fatal blow on Tuesday.
Former wicketkeeper Adam Gilchrist lined up four bats in a row outside his house and wrote: "From the Gilly kids."
Prime Minister Tony Abbott leaned a bat against the wall of Kirribilli House, his official residence in Sydney.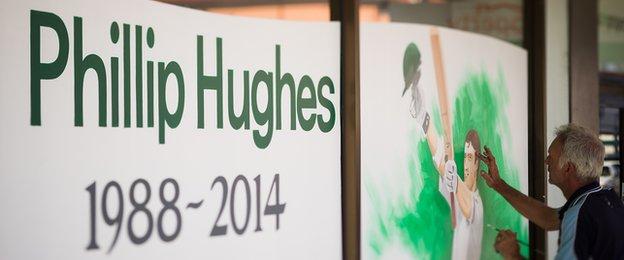 The mark of respect has come through other sports too - and from all age groups. Australia's Under-16 girls hockey players, the Futuroos, placed their sticks in a spiral around a tree. Elsewhere the crowd broke into applause during the 63rd minute of the A-League football match between Melbourne Victory and Adelaide United on Friday night.
Australian former Premier League footballer Tim Cahill tweeted from New York, saying he knew Hughes was a big soccer fan, so for all those who didn't have a cricket bat, he was starting #putoutyoursoccerballs
As an extension of this, some have simply started displaying things they love, in the way that Hughes loved cricket. An electric guitar was photographed leaning up against a brick wall with the same hashtag.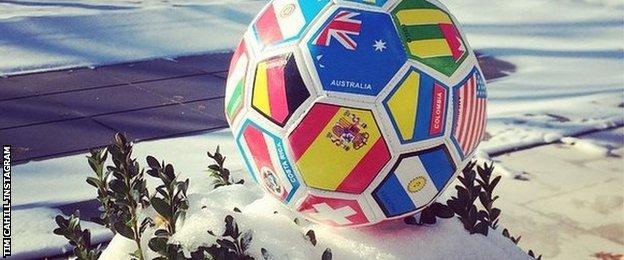 In the Northbridge district of Perth a mural of graffiti art has appeared on a red brick wall. It depicts a green matted cricket pitch, the words HUGHES in 3D, and a solitary cricket bat leaning against the name. A store in Sydney arranged for a banner portrait of Hughes to be painted in its front window. Hughes' old primary school in Macksville wrote on the notice board outside the building "RIP Phillip Hughes. You will always be part of our Macksville family."
In the front window of a family home on a tree-lined street in Sydney, two adult cricket bats next to a child-sized bat seemed particularly poignant; a reminder that Hughes was once a child - and his parents are now one child less. To that end, every parent in the country has been touched by this tragedy; the loss of such a young, talented son, and a country boy living out his dream.
On the day of Hughes' death, Port Melbourne CC cancelled senior training and held a BBQ in the clubrooms instead. Their junior cricketers were in action on Saturday and wore black armbands to mark the passing of one of their heroes. As they stood side by side in whites at the edge of the pitch, their coach told them that during the minute's silence perhaps they could think about how much fun it is to be able to play cricket with your mates. Because that is what Phillip Hughes did.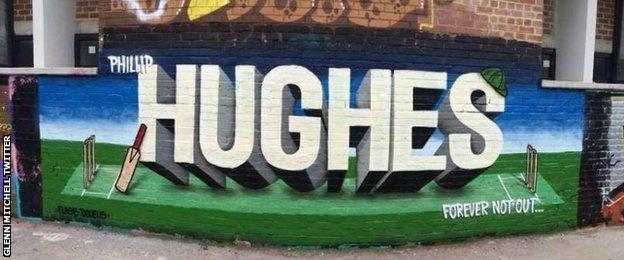 One small cricketer reached 63 not out, then retired. Usually the retirement score would be 50 in junior cricket, but this weekend Cricket Australia asked it be changed to 63, to match the score Hughes was on when he was hit. The little fella was proud that he had reached the milestone in honour of his hero.
Scenes like this were repeated all over the country with players as young as seven observing 63 seconds of silence. Clubs painted Hughes' Baggy Green number, 408, on the outfield. Grade cricket in Sydney had already been cancelled out of respect for Hughes in his home state.
Wherever you are in the country, it is hard to avoid conversations about Hughes's death. Buying a newspaper across a counter in Melbourne leads to the cashier exclaiming his disbelief and sadness at the front page - before adding that he is not even a cricket fan.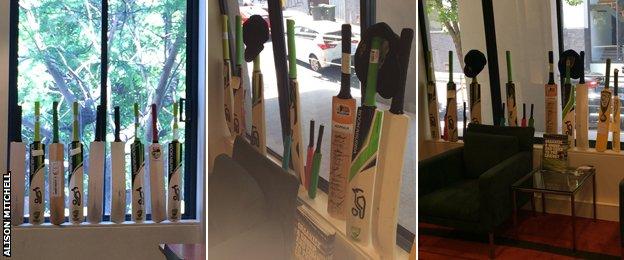 Australia's Daily Telegraph devoted its entire front page on Saturday to a montage of touching images from #putyourbatsout. Other papers such as the Adelaide Advertiser kept Hughes on the front page as well as the back. Victoria is in the midst of state elections this weekend, so coverage in Melbourne's Age and Herald Sun starts four pages in, whilst still dominating the sport. ABC's iconic sports programme, Grandstand, was flooded with tributes to Hughes when they threw open the phone lines on Saturday.
As more and more bats appear, it feels as if the sense of shock and grief might be starting to give way to a more reflective feeling about the life of Phillip Hughes; about remembering the country lad who would have turned 26 on Sunday, and remembering what he achieved as a cricketer.
For those closest to Hughes, though, the grief remains heartbreaking and raw. A distraught Michael Clarke fought back tears and struggled to maintain control when he read out a tribute statement on Saturday on behalf of the whole Australia team. "To Greg, Virginia, Jason and Megan," he faltered as he addressed Hughes's parents and siblings, "we share in the deep pain that you're feeling." Between sentences there were heart-wrenching pauses while the Australia captain - "our captain" as the Aussie media refers to him - tried to hold himself together. Australians are rightly proud of the way Clarke is supporting both his team-mates and the Hughes family. Right now, he is in need of as much support himself.