Alastair Cook rejects Kevin Pietersen's call for his resignation
Last updated on .From the section Cricket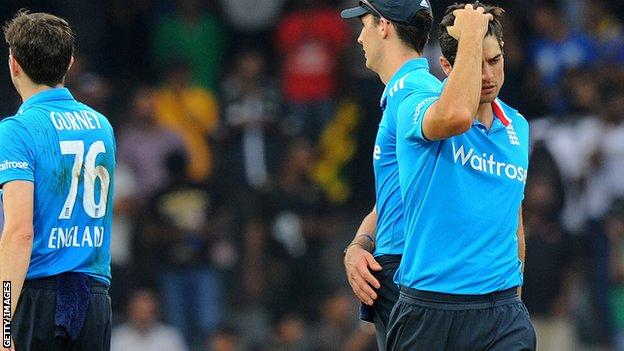 Alastair Cook has rejected Kevin Pietersen's call for him to resign as England one-day captain.
"Dear Alastair, if you care about England's chances this winter, please resign," Pietersen wrote on Twitter.
But Cook said: "People are entitled to their view. That's the nature of the beast when you're on the outside."
The opener added: "People believe what they want to believe. In our dressing-room, we've got to stay strong as a group.
"We're the guys who have the honour of playing for England at this moment in time, and we have guys who have the opportunity to turn it round - not other people outside."
Bopara support for Cook
"Alastair's a determined guy. He always wants to do well," said England all-rounder Ravi Bopara, who has made back-to-back half-centuries in the two one-day internationals against Sri Lanka.
"He's trying his best to do the country proud, the fans proud, himself, his team-mates, his family. He's a good enough player to turn it around. He's a fighter.
"I've seen him do it before, and I'm sure it'll come round very soon."
Pietersen, who was discarded by England after the Ashes whitewash in Australia, also asked for Cook to stand down in September.
After the defeat that put England 2-0 down in the seven-match series in Sri Lanka, he also called for Alex Hales to take Cook's place at the top of the batting order, using the hashtag "get Hales in".
Cook made only 22 as England were bowled out for 185 in Colombo, taking his 2014 tally in 50-over internationals to 436 runs in 16 matches at an average of 29.
"I think you feel the heat when you're not scoring runs," said the 29-year-old. "If you have two games at the start of a tour, and don't score them, you're naturally going to start feeling that.
Cook's poor ODI run
Alastair Cook has made only one half-century in his last 18 one-day international innings. The last of his five hundreds came in June 2012.
"I've just got to do what I keep doing, believing in myself, doing my basics right."
Cook took charge of the one-day side in 2011, initially enjoying success by leading England to the top of the world rankings in 2012.
England also reached the final of the 2013 Champions Trophy, where they were beaten by India, but, since then, have managed only seven wins against leading nations.
Cook's side now have nine more games - five in the ongoing series in Sri Lanka and four in a tri-series with Australia and India - before the World Cup begins in February.
Former England captain Michael Vaughan believes there is still time to make alterations, writing on Twitter: "It's not too late to change. It's not too late to compete, but England won't if they stay the same."