Phillip Hughes: Michael Clarke pays tribute on batsman's birthday
Last updated on .From the section Cricket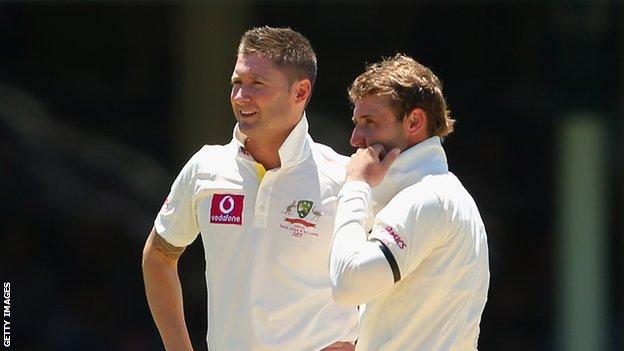 Australia captain Michael Clarke has paid an emotional tribute to Phillip Hughes on what would have been the batsman's 26th birthday.
He also posted several images of the pair together to his Twitter account.
Hughes died on Thursday, two days after being struck on the neck by a bouncer during a domestic match in Australia.
In his tribute column, Clarke wrote: "I was drawn to him instantly, falling for his cheeky grin and love of life.
"I don't think in 12 years of playing cricket at the top level I have ever come across a more loyal or generous-hearted team-mate.
"He was a country boy at heart, with honest values and a work ethic second to none."
Ex Australia player Adam Gilchrist on Hughes
"He was an amazing young talent with cricket bat in hand. His character, his personality, his vibrancy, work ethic and passion for the game which has captured the mindset of the cricket loving worldHe was an infectious personality. One you wanted around in a team - we've seen that from the way his team-mates are in such a world of hurt as a result of this tragedy."
Speaking on BBC Radio 5 live's Sportsweek
Clarke said Hughes, thought by many to be on the verge of a recall to the Australia team at the time of his death, would have gone on to play 100 Tests.
The Australia captain also paid tribute to his former team-mate on his Twitter account, posting pictures of the pair playing and relaxing together.
"Happy [birthday] bro," Clarke wrote. "[I] will love you forever. It has been the hardest few days of my life."
Clarke was joined in remembering Hughes on social media by several other members of the Australia team.
Bowler Peter Siddle wrote: "I'm going to miss your cheeky smile, but I'll never forget it."
Former all-rounder Andrew McDonald wrote: "Happy birthday little man. You were a champion in every sense. You made life fun for us all. [We] will miss you."