Saeed Ajmal: Remodelled spinner likely to return to Worcestershire
Last updated on .From the section Cricket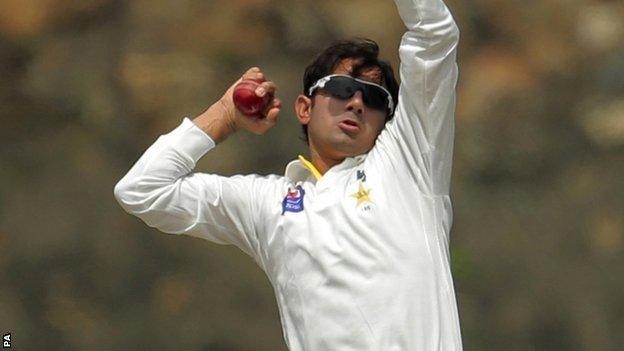 Saeed Ajmal will be cleared to play for Worcestershire and Pakistan again once his remodelled action is approved, says former spinner Saqlain Mushtaq.
Ajmal, 37, has since been working with former Pakistan Test player Saqlain.
"We've changed the action and follow through," Saqlain told BBC Sport.
Saqlain Mushtaq on the Saeed Ajmal situation
To hear the full interview, tune into The Bobby Friction Show on the BBC Asian Network on Wednesday 10 December (17:30-21:00 GMT)
"We have changed his horizontal bowling arm movement and, at the moment, we are very positive.
"There is massive improvement - 60 to 70, maybe even 70 to 80% we have changed and improved his action.
"As soon as his ban ends, he will obviously come straight back to playing for Worcester and not only them but also Pakistan."
Ajmal said last month that Saqlain's appointment on a short-term deal with the Pakistan Cricket Board has been a big factor in getting him back on track.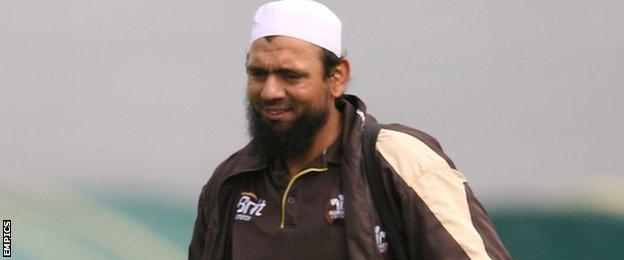 "Before there was no spin coach, but now Pakistan has one. It's been a difficult time. It's been frustrating as I've had to go back to the basics of spin bowling, right back to the start and work through the whole process.
"Most of my deliveries are now within the 15-degree limit. The ICC's rules stipulate that all deliveries have to be under 15 degrees and I'm very confident that I will achieve that target.
"I think 99% of bowlers these days would fail the 15-degree test for at least one or more of their deliveries.
"I also think the technology being used in match situations to assess bowling actions is too strict.
"They should use normal television cameras to assess our bowling actions. Instead, what is being used are cameras that can virtually see the blood running through our bodies."
The Saeed factor
Saeed Ajmal played in just nine of Worcestershire's 16 Championship matches this summer, but still did enough to bowl them to promotion, taking 63 wickets at 16.48
He took six separate five-wicket hauls and two 10-wicket match hauls: 12-40 against Glamorgan and 13-94 against Essex - the best match figures by a Worcestershire bowler at New Road since 1939
He has taken 178 wickets in 35 Tests at 28.10 in only five-and-a-half years since making his debut for Pakistan at the age of 31 in July 2009
Ajmal continued: "Also, this shouldn't just be about spinners, I'm surprised some pace bowlers have not been reported for their action being illegal.
"I was tested in 2009, tested again earlier this year and have had private tests on my action - every one has produced different results.
"There is just no consistency at all in these tests and the subsequent reports. If there was, I would know where I stand.
"I work on rectifying one issue then, in the next report, something different is pointed out."
In the last few days, Ajmal was named in Pakistan's provisional 30-man World Cup squad in the expectation that he may be cleared by the ICC by early next year.
Ajmal is one of nine international off-spinners to be reported to the ICC for illegal actions in the past 13 months - the most recent being his Pakistan team-mate Mohammad Hafeez, who was banned from bowling on Sunday.
Off-spinners under ICC scrutiny

Marlon Samuels
West Indies
Reported in November 2013; cleared in December 2013 (but banned from bowling quicker deliveries)

Shane Shillingford

West Indies

Reported in November 2013; suspended in December 2013; cleared to return in March (but banned from bowling doosra)

Sachithra Senanayake
Sri Lanka
Reported in June; suspended in July

Kane Williamson

New Zealand

Reported in June; suspended in July

Saeed Ajmal
Pakistan
Reported in August; suspended in September

Prosper Utseya

Zimbabwe

Reported in August; suspended in October

Sohag Gazi
Bangladesh
Reported in August; suspended in October

Malcolm Waller

Zimbabwe

Reported in November

Mohammad Hafeez
Pakistan
Reported in November; suspended in December