Phillip Hughes: Shane Watson tells of 'challenging time'
Last updated on .From the section Cricket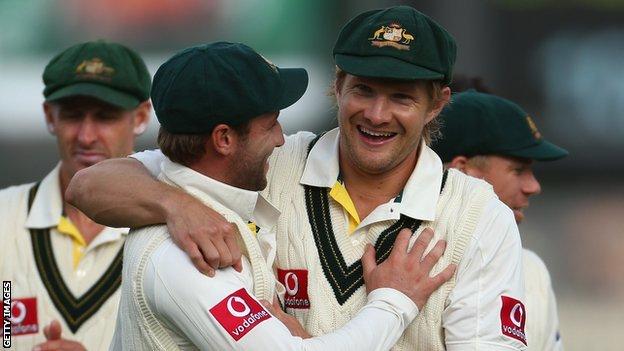 All-rounder Shane Watson says the days since the death of Australia team-mate Phillip Hughes have been the most challenging of his career.
Watson said: "There's been a lot of inner demons to find our way through."
Cricket Australia has announced a range of tributes to honour Hughes before Tuesday's first Test against India in Adelaide.
Before the game both teams will stand before a '408' painted on the pitch in recognition of Hughes' Test cap number.
There will be a video tribute and 63 seconds of applause in recognition of Hughes' final unbeaten score.
Watson, 33, was on the field at the Sydney Cricket Ground (SCG) on 25 November when Hughes was struck on the head by a bouncer while batting for South Australia against New South Wales.
He says that although it has been a struggle to cope with the tragic events, he is confident the whole squad will be ready to play the first Test in Adelaide.
Watson added: "It has been the most mentally challenging couple of days of my career trying to process what happened, especially having been at the SCG as well. But there is no doubt I will be ready to go on Tuesday.
Australia v India

1st Test: Adelaide

Dec 9-13, 00:00 GMT (10:30 local time)

2nd Test: Brisbane

Dec 17-21, 00:00 (10:00 local time)

3rd Test: Melbourne

Dec 26-30, 23:30 (10:30 local time)

4th Test: Sydney

Jan 6-10, 23:30 (10:30 local time)
"The first training session was especially tough. There were probably a few things flowing through my mind that I thought I'd processed quite well over the past week."
The first Test against India will include numerous tributes in honour of Hughes.
Cricket Australia chief executive James Sutherland added: "With the international season re-commencing on Tuesday, it is appropriate to pause once more and honour a modest hero who thrilled the nation and in so doing won an enduring place in our hearts."
The video tribute, which will be shown on giant screens in the ground, will be narrated by former Australia Test captain and BBC commentator Richie Benaud.
The Australia players will wear Hughes' Test cap number 408 on their shirts for the match. Players and team management will also wear black armbands.
The first Test was supposed to have started in Brisbane on 4 December but was put back and then switched to Adelaide to give players more time to recover.