Prosper Utseya: Zimbabwe star's off-spin banned, but seam legal
Last updated on .From the section Cricket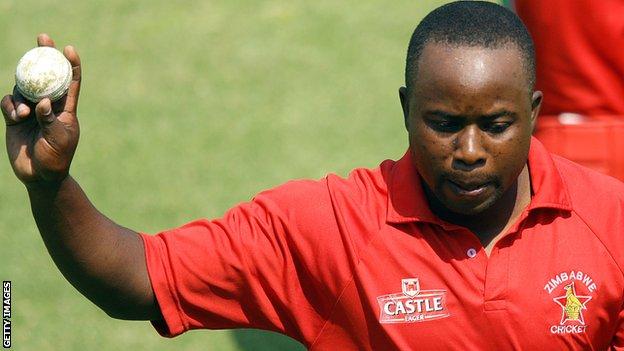 Zimbabwe bowler Prosper Utseya has been permitted to resume bowling by the International Cricket Council - but will not be allowed to bowl off-spin.
After remedial work, a re-test has now ruled that his range of slow-medium deliveries fall within the permitted 15 degrees of arm extension.
However, his off-spin remains banned.
An ICC statement read: "Umpires are still at liberty to report Utseya in the future if they believe he is displaying a suspect action and not reproducing the legal action that was analysed during the re-test.
"To assist in comparing the action used in the lab to the action used in upcoming matches, umpires have been provided with images and video footage of Utseya's remodelled legal bowling action."
Utseya has played in 160 one-day internationals, including 68 during a spell as captain between 2006 and 2010
Nine off-spinners, including Utseya's Zimbabwe team-mate Malcolm Waller, have been reported to the ICC for illegal actions in the last 13 months, along with Bangladesh seamer Al-Amin Hossain, who was cleared following tests.
Utseya and Waller were both recently named in Zimbabwe's provisional 30-man squad for the World Cup, which must be reduced to 15 players by 7 January.
Zimbabwe do not currently have any full internationals scheduled until the World Cup, which begins in Australia and New Zealand on 14 February.
Off-spinners under ICC scrutiny

Marlon Samuels
West Indies
Reported in November 2013; cleared in December 2013 (but banned from bowling quicker deliveries)

Shane Shillingford

West Indies

Reported in November 2013; suspended in December 2013; cleared to return in March 2014 (but banned from bowling doosra)

Sachithra Senanayake
Sri Lanka
Reported in June 2014; suspended in July; cleared to return in December

Kane Williamson

New Zealand

Reported in June 2014; suspended in July; cleared to return in December

Saeed Ajmal
Pakistan
Reported in August 2014; suspended in September

Prosper Utseya

Zimbabwe

Reported in August 2014; suspended in October; cleared to bowl seam in December (but banned from bowling off-spin)

Sohag Gazi
Bangladesh
Reported in August 2014; suspended in October

Malcolm Waller

Zimbabwe

Reported in November 2014

Mohammad Hafeez
Pakistan
Reported in November 2014; suspended in December