Joe Root and James Taylor run Sri Lanka ragged - Simon Hughes

By Simon Hughes
BBC Test Match Special
Last updated on .From the section Cricket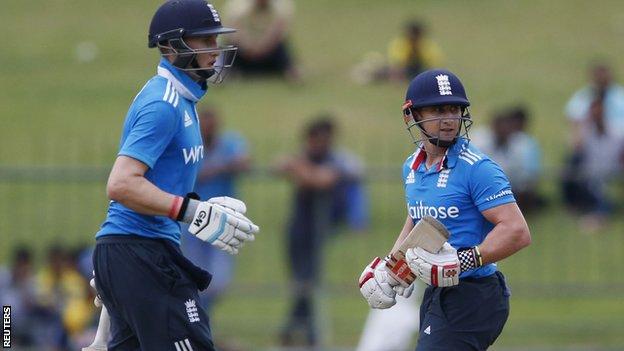 Rarely have two young English batsmen batted with such skill and composure in a run chase on the sub-continent.
Joe Root was nerveless, resourceful and picked up numerous runs with wristy manoeuvre and deft placement.
James Taylor was busy, clever, and never let the bowlers settle. They turned an awkward situation completely in England's favour.
Joe Root's England ODI centuries
104 not out
v Sri Lanka,
Pallekele, December 2014
113
v India,
Headingley, September 2014
107
v West Indies,
Sir Viv Richards Stadium, Antigua, March 2014
Modern batsmen spend inordinate amounts of their time preparing and practising, grooving their technique in the nets.
They focus little attention on running between the wickets.
Especially on awkward, spinning pitches, the judgment of a run is a much undervalued skill. In his second successive influential performance, Taylor excelled in this department.
He exudes purpose. There is buzz and effervescent about his batting which injects England with tangible energy.
He declared his intent from his first ball. After an airy waft cost Moeen Ali his wicket to the rehabilitated off spinner Sachitra Senanayake, Taylor strode eagerly to the crease.
James Taylor for Notts in 2014

Innings

Runs

Highest

Average

Championship

28

992

126

38.15

One-day Cup

7

444

146

88.80

Twenty20

12

272

52

34.00
He immediately advanced up the pitch, forced the ball firmly towards mid on and scurried through for a quick single. He did the same again two balls later.
Even after Alastair Cook was out lbw, Taylor continued to have a major impact on the Sri Lankan bowlers and fielders, constantly putting them under pressure with his flicks and squirts and surges up the wicket.
Vitally, he wasn't running up the wicket to play the big shot, but merely to get closer to the ball to control the angle of his shot. He is a superb run thief. He ran the Sri Lankans ragged. Their out-cricket wilted.
The noticeable feature of Root's innings was his brilliant use of the crease against the spinners. He laid back and played the ball as late as possible, dabbing or gliding it in to gaps.
Two balls later he'd be darting up the pitch as the bowler sought a fuller length to make the ball into a half volley and drive it wide of the stumps for another single.
His faultless manipulation of the bowlers' length and equally eager running, meant he never had to resort to a big hit. The few rank bad balls he received he put away with aplomb.
Sri Lanka would have fancied their chances at the start of the day with four spinners at their disposal, the pitch looking dusty and cracked and Kumar Sangakkara's exquisite 91 destined to be man of the match.
It was hard to imagine an English batsman could upstage him in such unfamiliar parched conditions. The fact that not one but two did persuaded the Sri Lankans to immediately get the hose pipe on the pitch for Saturday's encounter at the same venue.