Phillip Hughes: Brother Jason hits 63 on return to grade cricket
Last updated on .From the section Cricket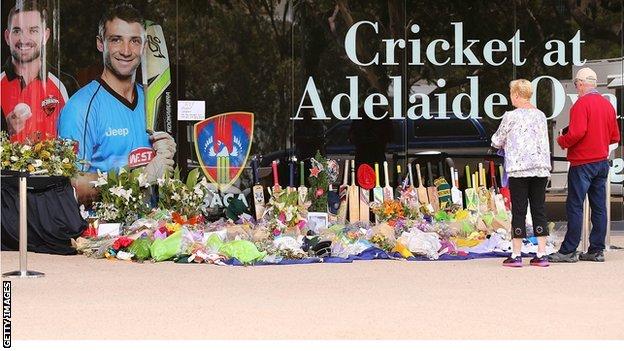 Phillip Hughes' older brother Jason hit 63 on Saturday in his first Sydney grade cricket match since the death of the Australia batsman.
Phillip Hughes was batting on 63 when he was hit by a short-pitched delivery during a Sheffield Shield match on 25 November.
The South Australia batsman died from his injuries two days later.
The elder Hughes scored 63 for Mosman against Sydney, and was unaware of his score when his innings ended.
The figure of 63 was used in many tributes to Phillip Hughes following his death, including a 63-second applause at the start of the first Test between India and Australia in Adelaide this week.
David Warner dedicated his first-innings century during Australia's 48-run win over India to his former opening partner, while captain Michael Clarke said the players were "emotional" in the dressing room after his side completed the victory at the Adelaide Oval in their first match since Hughes' death.