Sri Lanka v England Sangakkara mastery adds to Cook woes

By Simon Hughes
BBC Test Match Special
Last updated on .From the section Cricket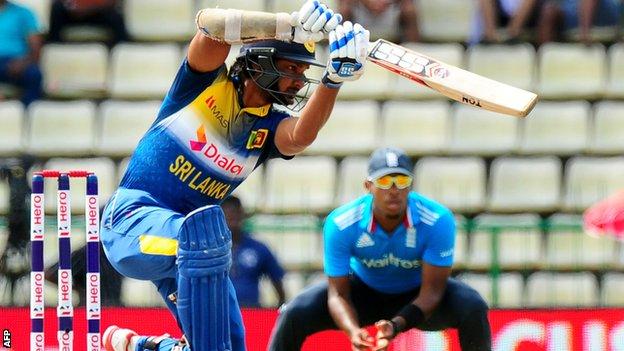 Leading a side against Kumar Sangakkara is a captain's nightmare.
Meticulously prepared, surgically planned and clinical in its execution, Sangakkara's 112 was the inevitable extension of his previous scores in this series - 67 not out, 63, 86 and 91 - and inspired a 90-run win for Sri Lanka that secured the one-day series against England with one match still to play.
He was always going to make a hundred on his last appearance in his home city - it was written in the Kandy tea leaves - and no-one was going to stop him.
Someone could have. That someone was Alastair Cook.
Kumar Sangakkara international record

Innings

Runs

Average

Highest

Tests

221

11,988

58.76

319

ODIs

366

13,339

40.66

169

T20i

53

1,382

31.40

78
Sangakkara offered a firm but easily catchable chance to Cook at mid-off when he was on 41. It was the kind of catch that Cook would take 10 times out of 10 in practice. But his focus was blurred, his mind contaminated by the problem that is Sangakkara.
The stylish Sri Lanka left-hander seems innately to understand conditions and situations - it is what you get from 573 international appearances - and in this vein of form, he always has a solution.
He recognised the England bowlers were on song in the first 10 overs and defended stoutly, accumulating where he could.
As his partnership with Tillakaratne Dilshan progressed, he began toying with England's bowlers and field positions, particularly Moeen Ali. He went up the wicket and chipped over mid-on for four, then laid back and cut square on the offside.
The deep mid-wicket fielder was shifted straighter, the cover man moved finer. Sangakkara delayed his movements fractionally to penetrate the new spaces. He is like a master snooker player, manoeuvring the cue ball at will to his design, precisely controlling its path.
Kumar Sangakkara 20 ODI centuries by opponent
6
v India, 76 matches from 2000-2014, highest 138*
4
v Bangladesh, 30 matches from 2002-2014, highest 128
3
v England, 42 matches from 2001-2014, highest 134*
2
v Pakistan, 56 matches from 2000-2014, highest 112
2
v South Africa, 43 matches from 2000-2014, highest 169
1
v New Zealand, 38 matches from 2001-2013, highest 111
1
v Australia, 45 matches from 2002-2013, highest 101
1
v Kenya, 3 matches from 2003-2011, highest 103*
When Cook brought the deep square leg up to Ali, he moved across his stumps and swept the ball fine, when he dropped him back and brought up mid-on he clipped the ball over his head. Even when he scuffed a drive he managed to convert it into a quick single. Only the artful James Tredwell managed to remotely contain him and even then only by constantly tinkering with his field.
It was in the midst of this that Cook, exasperated by Sangakkara's insatiable brilliance, was offered his chance. His mind was not on the job of catching and he shelled it.
Sangakkara is not a man to offer a beleaguered captain any sympathy.
He capitalised on the opportunity to offer an exhibition of how to dissect a bowling attack and destroy a team's optimism. Minimising risk he still achieved the perfect strike rate (100.)
Illustrating that batting is science not art, he has now made 26,709 runs in all international cricket since his debut in early 2000, comfortably more than anyone else in the game today.
Sri Lanka's eventual total of 292 was excessive for the pitch, and Cook's mind was still addled when he opened the batting. He immediately missed a slow straight ball from Sachitra Senanayake to depart for a second successive lbw.
He will reflect that one thing a struggling captain does not need is Kumar Sangakkara in the opposition.