Sussex: Tymal Mills and Ajmal Shahzad must be 'nurtured'
Last updated on .From the section Cricket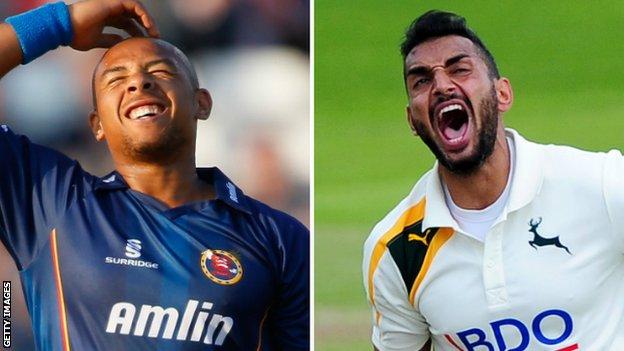 Sussex cricket manager Mark Robinson says new signings Tymal Mills and Ajmal Shahzad will need "nurturing" in order to realise their potential.
The seam duo have moved to Hove from Essex and Nottinghamshire respectively.
"They have come to Sussex not perfect, as many players who join us do," Robinson told BBC Sussex.
"Shahzad wouldn't have been allowed to leave Notts if things were going swimmingly and 'Millsy', as yet, hasn't quite fulfilled that enormous talent."
Shahzad, 29, was released one year early from his contract at Trent Bridge in order to join Sussex, having spent two years with Nottinghamshire.
Left-armer Mills, 22, left Chelmsford following a 2014 campaign disrupted by a back injury.
"In Shahzad I recognise someone we have got to love and nurture," Robinson said. "We have got to allow him to play exciting cricket and not put too many restrictions on him.
"With 'Millsy', we have got to nurture, watch, encourage him to bowl fast and win us some games. If he goes for a few runs, so be it."
Mills and Shahzad head-to-head

Tymal Mills

Ajmal Shahzad

22

Age

29

52

First-class wickets

201

35.59

First-class average

35.52

13 wickets at average of 34.00 (six appearances)

2014 in County Championship

18 wickets at average of 40.55 (eight appearances)

England Performance Programme winter 2013, England Lions tour to Sri Lanka 2014

International honours

One Test for England in 2010, 11 one-day internationals and three T20Is in 2010-11
Shahzad played one Test match for England in 2010 and made 14 international limited-overs appearances between 2010 and 2011, while Mills represented England Lions in Sri Lanka earlier this year when Robinson coached the touring party.
The 48-year-old believes Sussex's recent rehabilitation of players - which has seen now-departed Monty Panesar return to the national set-up in January 2012 following a three-year absence and Chris Jordan establish himself in all three formats for England after joining from Surrey at the end of 2012 - would have been a factor in the pair's decision to move to the south coast.
"We will look for Shahzad ideally to do the same role as Chris Jordan, batting at eight and getting runs and impacting with the ball," Robinson said.
"'Millsy' is as quick as anybody and we are really pleased he chose us as he had bigger and better offers elsewhere. I managed to strike a good relationship with him on the Lions tour.
"What we hope is the reputation of the club - the ability to enhance and turn people's careers in the right direction - will have an impact.
"I just think we need to have the right amount of expectation on 'Millsy' as he has had some injuries and is a very young man. We know if we get him right, we have a hugely exciting prospect on our hands."