Sri Lanka v England: Hughes on Cook, Moeen, Hales & Root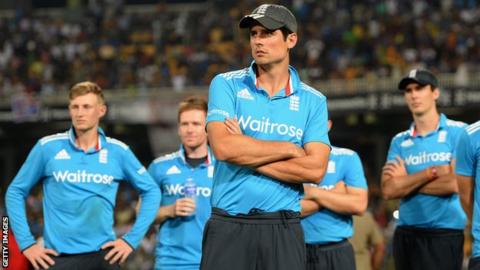 It was a risk for England playing this series at the end of Sri Lanka's rainy season, but it has been a valuable exercise despite an 87-run defeat in Colombo consigning them to a 5-2 defeat.
The series has told them which players they will be able to trust at the World Cup and which they will not. The evidence both for the defence and the prosecution has been gathered. Now it will be a matter of whether or not they want to heed it.
A captaincy conundrum
England look determined to persevere with Alastair Cook, both as captain and opening batsman. Despite his excellent record in Australia, it looks to be the wrong call. Trying to bat with the extra urgency necessary in one-day cricket puts a terrible strain on him. It does not come naturally.
He was almost out twice in this last game before finally departing for a stuttering 32. The Sri Lankans actually appeared sorry for him. He looked exhausted afterwards. England can only hope that a new year and a new continent will imbue a change of form.
Alastair Cook as England ODI captain
Matches
Wins
Defeats
Ties
No-results
69
36
30
1
2
Dynamic Moeen
The experiment opening with Moeen Ali has been a partial success. He is destructive against pace in the early overs, giving the innings a dynamism it has often lacked, but he is naive against spin.
He tends to unleash one screaming drive and then depart to a loose waft. In the final match of the series, when he was out for a first-ball duck, he looked as if he had decided on the shot he was going to play before it was delivered. He was comprehensively bowled.
Having seen that, opposing teams are bound to open the bowling with spin against England. Moeen needs to fathom a more balanced response.
Moeen Ali in Sri Lanka
Matches
Runs
Average
Wickets
Average
7
236
33.71
5
63.80
Hales raw and dangerous
Nottinghamshire batsman Alex Hales has not progressed, but should be persevered with - he has a rare, but raw talent. Hopefully he will have learnt from watching how the modern masters Kumar Sangakkara and Mahela Jayawardene manipulate the field and compile an innings.
That might come in handy at some stage in the World Cup. He should learn just from being there. For the moment, James Taylor has earned the right to continue at number three. He is energetic and busy and a better option than the strangely uncertain Ian Bell.
Outstanding Root
The outstanding player for England has been Joe Root. Confident, consistent, versatile, he has only failed once in seven innings and has evolved a purposeful, nerveless, risk-free method.
He has only played 43 one-day internationals yet already he's batting like a veteran. Only fatigue and lack of partners denied him a fourth one-day hundred today.
Joe Root in Sri Lanka
Matches
Runs
Average
Highest score
7
367
73.40
104 not out
Misfiring engine room
England's potential engine room of Ravi Bopara, Eoin Morgan and Jos Buttler failed to regularly deliver. They will fare better on Australian pitches with pace on the ball, especially Morgan after his stint in the Big Bash. He still has a mercurial ability, though teams have to an extent worked him out. They bowl wide and full or short and at the body.
He would be better at number five than six, to give him a bit more time before he has to cut loose.
Young pacemen impress
Chris Jordan and Chris Woakes have definitely progressed - Jordan with his control, including a brilliant last over in the final match, and Woakes with his penetration. Both bowled generally quicker than Steven Finn and have superior variety - especially Woakes - though Finn obviously has the height advantage.
Woakes also offers growing scope with the bat. Any permutation of these three will support Stuart Broad if Jimmy Anderson fails to persuade the white ball to swing. England lack a real match-winning bowler but they won't lack persistence.
Fielding - that vital sixth bowler - does not inspire huge confidence. It is safe but not spectacular. It encapsulates England's overall one-day approach.
England's pace bowlers in SL
Name
Matches
Wickets
Average
Economy rate
Chris Woakes
7
14
25.28
6.1
Chris Jordan
5
10
26.00
5.65
Steven Finn
5
5
43.80
5.81
Harry Gurney
3
1
158
6.49
Ben Stokes
3
0
n/a
10.62