Glamorgan: Graham Wagg interested in T20 captaincy
Last updated on .From the section Cricket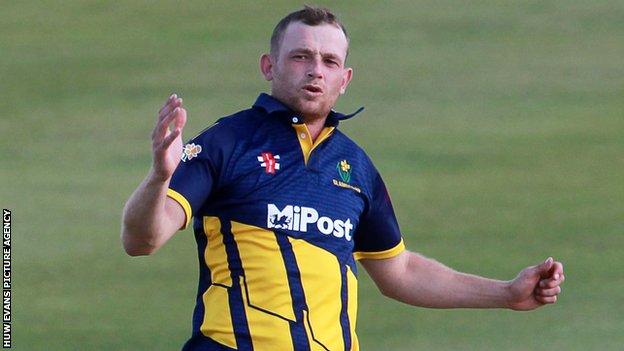 Graham Wagg has admitted he is interested in becoming Glamorgan's T20 captain for the new season.
Mark Wallace was County Championship and 50 overs skipper and the county have yet to announce their captains for next season.
When asked if he would consider himself a candidate, all-rounder Wagg said: "I would, whether the club would or not is a different matter."
He added: "You might have to speak to [chief executive] Huw [Morris] and [head coach] Toby [Radford], but I'm never saying no you know.
"I see myself still as a very good cricket brain but there's a number of good candidates in the dressing room that can lead a one day side.
"Mark's done a fantastic job in four day cricket, Jim's done a fantastic job in one day cricket."
Meanwhile new batsman James Kettleborough has revealed he joined Glamorgan because they made him feel more wanted than his previous side Northants.

He turned down the offer of a new contract at the County Ground to sign a two-year deal with the Welsh side in October.
"They made me feel very wanted, which as a professional cricketer you want to feel wanted, you want to feel like you're needed," Kettleborough said.
"Of course I knew Toby [Radford] as well from Middlesex so it was nice to have a familiar face and someone that I knew so it kind of just went from there.
"So like I say, they made me feel a lot more wanted than perhaps Northants did at the time. It was a difficult decision for me to make but one that I'm pleased that I did make.
"It wasn't a financial thing at all, it was probably the complete opposite.
"The way they spoke to me, the things they spoke to me about, just kind of made me think they're saying what I want to hear really which can be quite simple really but means quite a lot."