Alastair Cook: England right to replace ODI captain

By Jonathan Agnew
BBC cricket correspondent
Last updated on .From the section Cricket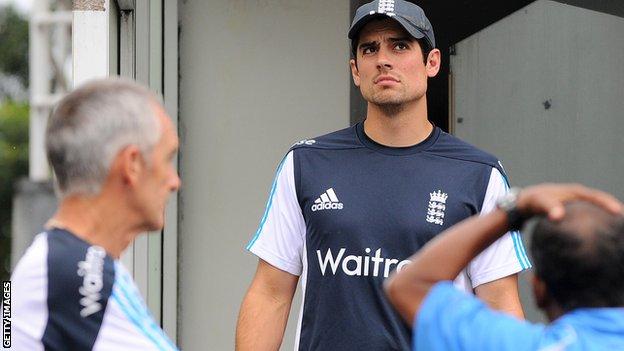 In the end, it was inevitable that Alastair Cook would lose his job as captain of the England one-day team.
It is a decision that could have been taken during the summer - either at the beginning or the end of the 3-1 series defeat by India - and, in my view, it is the right move.
This comes at the end of a traumatic 12 months for Cook, the height of which was the calls for him to stand down as Test captain.
Though he was able to reverse both his own fortunes and those of his team in the five-day game, his position as leader of the one-day side is a different matter.
Even those who were calling for Cook to stand down as Test skipper would probably have conceded that he was worth his place in the team, but that is simply not the case in one-day cricket.
Alastair Cook as England one-day captain

Matches

Wins

Defeats

Ties

No-results

69

36

30

1

2
And that is what this decision boils down to. Even though England's results in one-day cricket have been relatively poor, Cook has been removed because of his dismal form, with an average of 27.52 in his last 20 matches telling its own story.
In truth, captaincy in a one-day international rather takes care of itself. Yes, there are times when you need to think on your feet, but many plans are laid in the dressing room before a ball is bowled.
The leader is less important than in a Test match and so, when it became clear that Cook no longer merited a place in the team, there was no option to but replace him as captain.
People will point to Eoin Morgan's own poor form but, just as Cook survived as Test captain because of his proven pedigree, Morgan is the natural choice as captain because of his excellent limited-overs record.
It may well be that Morgan is in the job temporarily and his position will be reviewed after the World Cup, but he certainly won't be seeing it that way. For a man who loves ODI cricket and has played it very successfully, the task of leading England to a World Cup is a wonderful opportunity.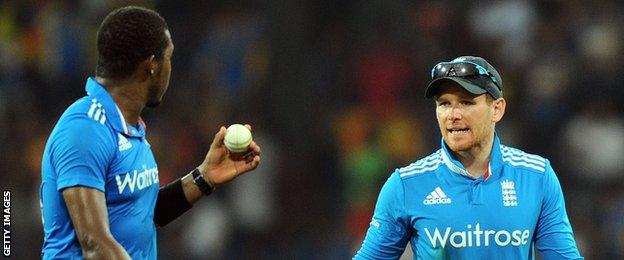 The Dublin-born left-hander is a very level-headed, mature young man. He has relished the chance to deputise as one-day skipper on eight previous occasions, averaging 71 with the bat when he has done so.
He will be realistic about England's chances in Australia and New Zealand (they haven't actually changed much, a spot in the semi-finals would be regarded as a success), but he should also enjoy the challenge of leading a team that isn't fancied by many to do well.
As for Cook, he will be bitterly disappointed. A man who possesses all the stubbornness, determination and doggedness to get through that most trying of summers will regard losing the one-day captaincy as a failure.
He was incredibly ambitious, to the extent that he thought England could win the World Cup, and, in the end, as he said all along, he had to have the captaincy taken off him rather than give it up.
England 2015 World Cup fixtures

Date

Opponents

Venue

14 February

Australia

Melbourne

20 February

New Zealand

Wellington

23 February

Scotland

Christchurch

1 March

Sri Lanka

Wellington

9 March

Bangladesh

Adelaide

13 March

Afghanistan

Sydney
However, in the long run, this could well be the best decision for both Cook and the England team.
It always seemed unnecessary to give him the pressure of a job to which he wasn't particularly well suited in a year that contains so much crucial Test cricket.
As well as the all-important Ashes, there is also a tour to play Pakistan in the incredibly difficult conditions of the United Arab Emirates and a trip to take on world number ones South Africa.
Now, after a turbulent year, Cook has the opportunity to take a step back and recharge his batteries ahead of that 12-month period that involves 17 Tests.
Of all modern cricketers, Cook is perhaps best equipped to remove himself from the game. He doesn't read much and isn't on social media, so he won't care what is being said about him.
He will return to his farm, his wife, young child and friends. He shouldn't even think about picking up a cricket bat until soon before the three-Test trip to the West Indies in April.
And perhaps, if he is holding the Ashes urn aloft at The Oval in August, he will see this as a blessing in disguise.
Jonathan Agnew was talking to BBC Sport's Stephan Shemilt
England's recent World Cup record

Year

Stage reached

Captain

Hosts

2011

Quarter-finals

Andrew Strauss

India, Sri Lanka & Bangladesh

2007

Super Eights

Michael Vaughan

West Indies

2003

First group stage

Nasser Hussain

South Africa

1999

First group stage

Alec Stewart

England, Wales, Scotland & Ireland

1996

Quarter-finals

Mike Atherton

Pakistan, India & Sri Lanka