Glamorgan aim to honour Phillip Hughes in first 2015 Ashes Test
Last updated on .From the section Cricket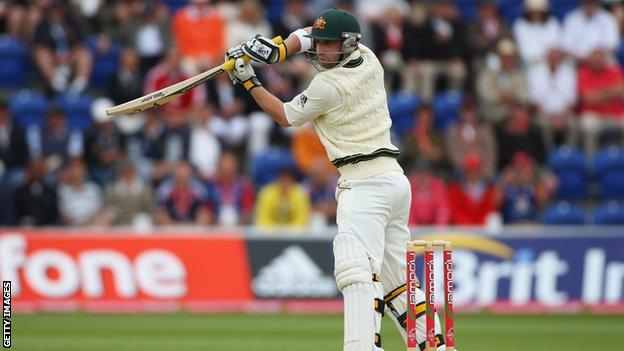 Glamorgan hope to honour Australia batsman Phillip Hughes when Cardiff hosts the first 2015 Ashes Test.
Hughes died, aged 25, last month after being struck on the top of the neck by a cricket ball.
The match on 8 July will be the first time Australia will have played in the UK since the death of Hughes.
"We hope to put on an event that's befitting of a cricketer that's very sadly passed away," said Glamorgan chief executive Hugh Morris.
"It will be a poignant moment... Phillip in 2009 played his first Ashes Test match here in Cardiff."
Morris added: "It [his death] was just a tragic event, it was something that shook the whole of the cricketing world - whoever you played for and whichever side of the world you were.
"He was a very fine young player, a really good young man - everybody spoke very highly of him - and it was just a tragic accident."
Glamorgan were awarded an Ashes Test in both 2009 and 2015 but missed out on being one of the five venues for the 2019 series against Australia.
However, the Swalec Stadium will host Champions Trophy matches in 2017 and will be a World Cup 2019 venue.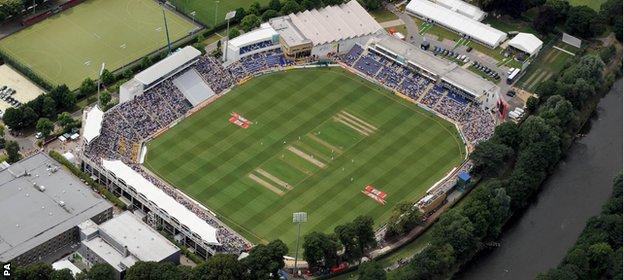 But the Welsh county are keen to host England Tests against India and South Africa when the next round of bidding begins for matches in 2020-2022.
"We're very pleased with our allocation between 2017 and '19. To have been awarded two ICC events is a great opportunity for the club and the city of Cardiff, and obviously Wales," Morris added.
"We have aspirations to host Test matches, we believe we've done it really well in the past and we'll be hosting a great event next year when England play Australia here in Cardiff.
"The next round of allocations begins in the new year and we are due to hear the outcome of the 2020 to 2022 bid at the beginning of April next year.
"It's a very quick turnaround and we have yet to see exactly what the allocations are and what we'll be bidding for.
"But you can rest assured that our eyes will be firmly set on a really good package, a broad package which would include Twenty20, one-day international and Test matches.
"We've been fortunate in many ways that in 2009 and 2015 we've been awarded Ashes Test matches, and to be one of the host venues for two global events in '17 and '19 I think is a great coup for us.
"India is a great cricket country; whenever India play cricket the amount of eyeballs that are on television sets in the sub-continent is just absolutely extraordinary, so they're always an attraction.
"South Africa are a great cricketing nation, but we need to see exactly what matches are going to be up for bidding."