Eoin Morgan: The Irishman who is England's one-day captain
By Stephan Shemilt
BBC Sport
Last updated on .From the section Cricket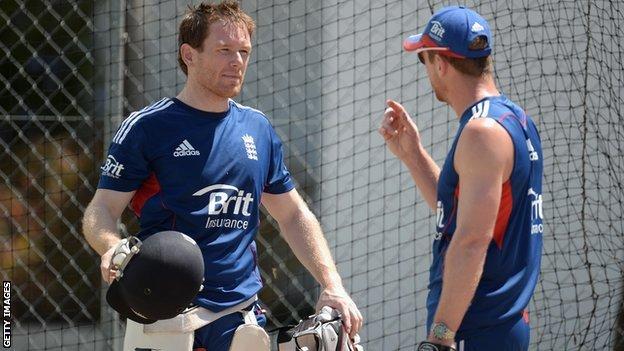 They left it late, but the England selectors finally opted to twist.
Professional gamblers will say that they are not in the business of gambling at all. Instead, they weigh-up probability and manage risk, twin pillars on which 28-year-old Morgan's career has been built.
The risk management of carrying England over the line in a run-chase. Pacing the innings, picking the right moment to play those double-jointed reverse sweeps and powerful heaves over the leg side.
Deciding that, on the balance of probability, his enormous talent was also likely to see him outgrow his native Ireland and forge a career with the cricketing powerhouse across the sea - even at the age of 13, when he left home to further his sporting education at Dulwich College.
Eoin Morgan as England one-day captain

Matches

Wins

Defeats

Ties

No-results

8

3

4

0

1
"From the time I went to school here this has been where I've wanted to be," said Morgan on making his England debut in 2009.
"I was always going to play for England, obviously helping out Ireland along the way was a good experience."
At that time, Morgan was, according to one newspaper, "an Irishman with a Welsh name playing cricket for England".
Five and-a-half years later, he's been asked to grab a rag-tag one-day side by its bootlaces and drag it to a World Cup where it will be the least fancied of cricket's eight major sides.
That he has been given the job has plenty to do with those early years on an estate in north Dublin, where Morgan learnt his cricket on a narrow strip of concrete.
A wall that covered the left-hander's off side meant the leg side would be more profitable, while schooldays playing hurling would also be of benefit. "The grip for hurling is the same as for the reverse sweep," Morgan explained.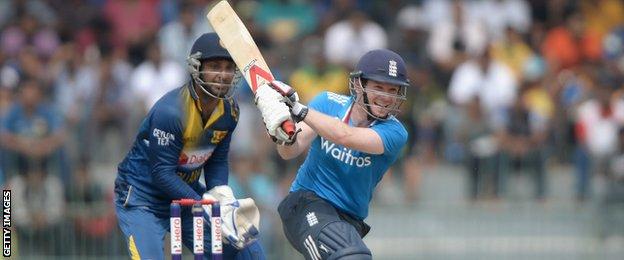 It was here that a technique suited to limited-overs cricket was formed, the basis of a style that, in the absence of Kevin Pietersen, makes Morgan England's only proven one-day international match-winning batsman.
"He's got a one-day game," former England captain Michael Vaughan told BBC Radio 5 live. "He's got all the shots, he's got the mindset. He's been there and done it."
Morgan's Ireland debut came at the age of 16, with a first appearance in English cricket coming for Middlesex at 19. After that, he made public his intention to serve the qualification period for switching international allegiances.
Established in the Ireland side, Morgan would play in the 2007 World Cup, but it was inventive and unorthodox performances in the county game that would see England come calling.
Back-to-back half-centuries helped England to the semi-finals of the 2009 Champions Trophy and, in the same year, Morgan blasted 85 from 45 balls in a T20 international in South Africa. His place in England's white-ball teams was assured.
An icy temperament in the international arena suggested he may also find success in Test cricket, with a first opportunity coming in 2010 and an extended run following in 2011.
Sixteen matches brought two centuries, but an average of 30 was not a good enough return. Following the 3-0 defeat by Pakistan in early 2012, Morgan lost a place that he is yet to win back.
England's recent World Cup record

Year

Stage reached

Captain

Hosts

2011

Quarter-finals

Andrew Strauss

India, Sri Lanka & Bangladesh

2007

Super Eights

Michael Vaughan

West Indies

2003

First group stage

Nasser Hussain

South Africa

1999

First group stage

Alec Stewart

England, Wales, Scotland & Ireland

1996

Quarter-finals

Mike Atherton

Pakistan, India & Sri Lanka
However, his stock in limited-overs cricket has continued to rise both in England and abroad.
Along with Pietersen, Morgan is one of the few England players regularly courted by the lucrative Indian Premier League, and he has long been vice-captain to Cook in one-dayers and Stuart Broad in T20s.
Leadership seems to suit him. In eight ODIs as stand-in skipper, Morgan averages 71.16.
"He's an outstanding player with a good one-day cricket brain," said Vaughan. "His strike-rate (runs scored per 100 balls) is right for this era - into the high-80s.
"For too many years, England have looked at one-day cricket through Test match eyes. With Morgan in charge, they might finally start looking at it through one-day eyes."
It is that spike in performance when asked to lead that would have assured the England selectors when faced with the one doubt that lingers over the decision to hand the captaincy to Morgan.
If Cook was removed for his dismal record that seen him average only 27.52 in his last 20 one-dayers, then Morgan is in a similarly poor trot, managing 25.45 over 23 games.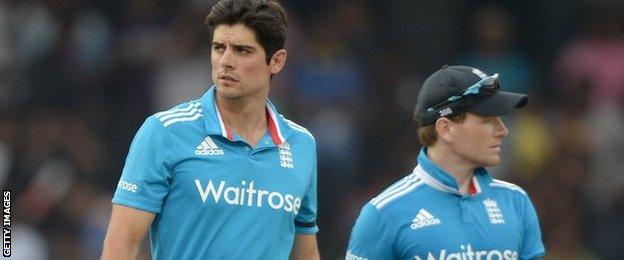 "He hasn't scored enough runs," said Vaughan. "But, I do think he will get a buzz and an energy back into the team and we'll see Morgan back to the right kind of form."
In addition to a proven one-day record and a comfort for wearing the crown, there is a further reason why Morgan was seen as the ideal option to lead England when Cook was removed.
Historically, the ODI captaincy has been seen as finishing school for a future Test captain, just as when Cook took the reins in 2011 to prepare to replace Andrew Strauss in the five-day game.
But that theory can lead to pressure on the Test captain, like when Vaughan took the one-day job in 2003 and had replaced Nasser Hussain in the longer form before the summer was out.
For now, though, the door on Morgan's Test career seems to be closed.
"Morgan will never be Test captain and so is not a threat to Cook," said BBC cricket correspondent Jonathan Agnew.
Alastair Cook as England one-day captain

Matches

Wins

Defeats

Ties

No-results

69

36

30

1

2
"Just as Cook had to go from the one-day side because he would not have been there on merit, they could not bring Morgan into the Test side unless he was worthy of a place."
For all the talk of planning over the four years since the last World Cup, England have made their biggest change of all with time rapidly running out before the 14 February opener against Australia.
Will having Morgan as skipper drastically improve England's chances down under?
Perhaps not - a quarter-final spot remains the minimum expectation, a semi-final appearance would be regarded as a success and anything further would represent England's best World Cup since the tournament was last held in Australia and New Zealand in 1992.
But, in opting for Morgan, England have their most experienced, most proven one-day player as captain and have finally chosen a limited-overs lover as their white-ball leader.
As Vaughan put it, "this has given England half a chance of being quite dangerous".