Mark Wallace backs Jacques Rudolph as Glamorgan captain

By Nick Webb
BBC Sport Wales
Last updated on .From the section Cricket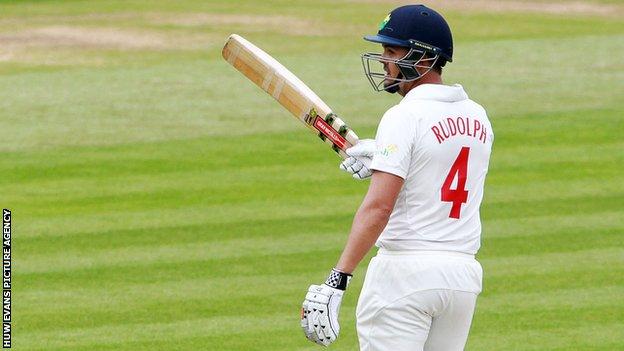 Outgoing Glamorgan captain Mark Wallace admits it was probably time for a change in leadership at the Welsh county after three years in charge.
Wallace believes Rudolph will do a good job as they bid to improve their Championship form.
"I think it's probably the right decision. I've done it for three years," said wicketkeeper Wallace.
"I'm obviously a little bit disappointed but you have to take a detached view on things... the idea that it's time for a change, a slightly fresher approach, I can totally understand that.
"We've underachieved in four-day cricket during my time [winning three and losing six in each Division Two campaign] so hopefully with a fresh approach that'll change."
Wallace's period as club captain saw Jim Allenby take charge of the Twenty20 campaigns in 2012 and 2014, while Australian Marcus North led Glamorgan in limited-overs cricket in 2013.
However, Wallace was in charge during the closing stages of the YB40 competition as they reached the 2013 final before losing to Nottinghamshire, and that provides Wallace's personal highlight of his time in charge.
"I captained in a Lord's final so that was very special and also the semi-final before that [an away win over Hampshire] to get there," he said.
"I've got some fond memories and some not so fond but that's all part of the experience I guess."
Now 33, Wallace says he hopes to carry on playing for the county as long as he is enjoying it, despite making his debut as a teenager in 1999.
"When you get to my age you take things year on year. Some guys like Murray Goodwin and Robert Croft played until their early forties and other guys knock it on the head earlier than you might expect," Wallace said.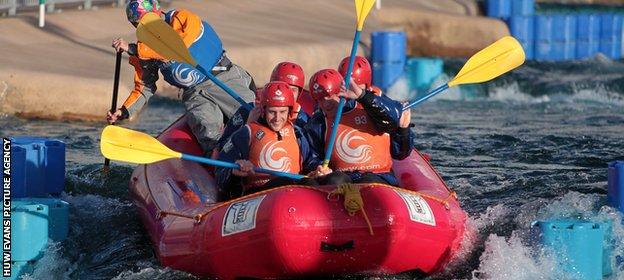 "But I've been very aware that I've really enjoyed playing for Glamorgan, I've always really treasured the chance and that's something I want to carry on doing. While I'm still enthusiastic I'll try to play as long as possible."
After being at the helm through some choppy waters for Glamorgan, Wallace's enthusiasm might have been tested in Glamorgan's final outing of 2014 - a team-bonding session at a white-water rafting centre which saw some of the squad dumped into freezing cold water.
They have also had hockey and football sessions, with plans to turn to netball in the new year.
"As a team this year we're trying to do different things on Fridays, bringing some team bonding," explained batsman Will Bragg.
"We've been in since mid-November doing gym work and nets and it's nice to get a break."
Bragg was Glamorgan's top scorer in first-class cricket in 2014 with 1024 runs, just ahead of the now-departed Allenby, while also breaking into the 50-overs side.
"Last year was a pretty disappointing season for myself after the way I started, so it's really (a question of) trying to be a bit more consistent this year," Bragg said.
"I'm 28 now so I see myself as a kind of leader of the (batting) group. With the youngsters coming through we're trying to develop a young Welsh team with the pillars of the overseas players which we need.
"I've got my personal targets of a 1,000 [first-class] runs and playing a bit more in the one-day team. I can produce in the one-day format, though I've got to work on my fielding. I'm suited to 50-over cricket and I'd like to be part of it, and I'm trying to adapt my game in the winter for the T20 as well."
As a top-order batsman, Bragg is likely to hear South African accents at the other end much of the time next summer, with Colin Ingram joining compatriot Rudolph in the squad.
"Getting someone of Colin Ingram's calibre is a brilliant addition and we've got Jacques Rudolph who played brilliantly last year in the one-day format, they'll complement our side very well and with the youngsters coming through, hopefully we'll have a bright future in the near term," Bragg added.