Northants: Chairman says no worries over finances
Last updated on .From the section Cricket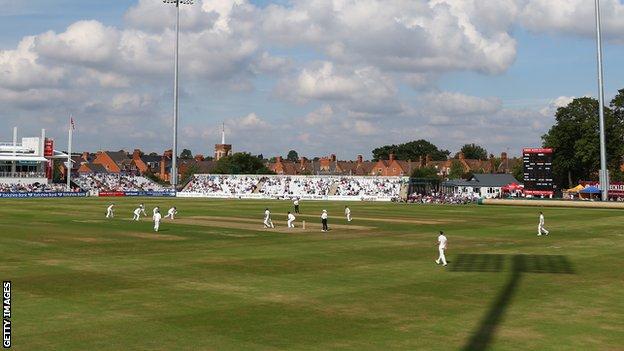 Northants chairman Gavin Warren says supporters should not be concerned by an extraordinary general meeting to address the club's finances.
The County Championship Division Two side are expecting a decrease in turnover this year.
Members will meet on Thursday, 22 January to vote on four proposals designed to raise funds.
"There is nothing to worry about," chairman Gavin Warren told BBC Radio Northampton.
"We don't really want to cut player budgets. We're excited about our one-day team this year.
"There's not an actual sum we need to raise, but if someone came along with £10m, we'd say 'thank you very much'. It's tens of thousands really."
Proposals include the possibility of creating bonds, taking on loans from directors and selling nearby property.
Northants lost a significant stream of income following the retirement of England spinner Graeme Swann 13 months ago.
Swann started his career at Northants and the club received payments from the England and Wales Cricket Board during his international career - even though he moved to Nottinghamshire in 2005.
"Our income from the ECB will be significantly lower this year, about £400,000 less. So as a board we have to look at other sources of finance," said Warren.
The EGM was initially planned for 8 January, but was put back because a number of members were not made aware of the date.
Northants EGM proposals
That the club proceeds with the sale of the County Tavern pub, which is located next to the ground
That the club proceeds with the sale of a residential property on Adnitt Road, near the ground
That directors are given permission to provide loans to the club
That the club will investigate the possibility of a bond scheme