Mohammad Hafeez: Pakistan off-spinner to face fresh ICC tests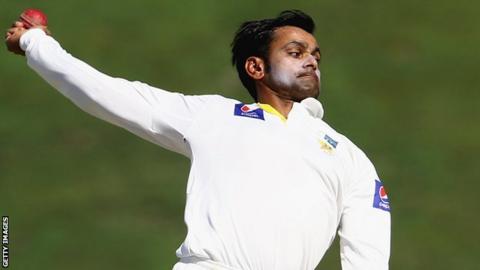 Pakistan off-spinner Mohammad Hafeez is to undergo further testing on his bowling action.
The International Cricket Council banned the 34-year-old from bowling in international cricket in December after his action was found to be illegal.
The Pakistan Cricket Board (PCB) has confirmed with the ICC that the testing will take place later this month.
He was selected for the World Cup as a specialist batsman but could play as an all-rounder if his action is cleared.
"Hafeez believes he will pass the official testing, " said PCB chairman Shaharyar Khan.
"If he passes the test, he will play the World Cup as an all-rounder. Otherwise, he is there as a batsman."
The World Cup, co-hosted by Australia and New Zealand, begins on 14 February.
Hafeez, who has taken 122 wickets in 153 one-day internationals, failed to clear his bowling action at unofficial testing in India last week.
His action was reported during the first Test against New Zealand in Abu Dhabi in November.
An ICC analysis of his bowling style at Loughborough revealed that his elbow exceeded the 15 degrees level of tolerance permitted.
Pakistan team-mate Saeed Ajmal recently withdrew from the World Cup squad as his bowling action is yet to be cleared by the ICC.
As well as Hafeez and Ajmal, seven other off-spinners have been reported to the ICC for illegal actions in the last 14 months.
Off-spinners under ICC scrutiny
Marlon Samuels
West Indies
Reported in November 2013; cleared in December 2013 (but banned from bowling quicker deliveries)
Shane Shillingford
West Indies
Reported in November 2013; suspended in December 2013; cleared to return in March 2014 (but banned from bowling doosra)
Sachithra Senanayake
Sri Lanka
Reported in June 2014; suspended in July; cleared to return in December
Kane Williamson
New Zealand
Reported in June 2014; suspended in July; cleared to return in December
Saeed Ajmal
Pakistan
Reported in August 2014; suspended in September
Prosper Utseya
Zimbabwe
Reported in August 2014; suspended in October; cleared to bowl seam in December (but banned from bowling off-spin)
Sohag Gazi
Bangladesh
Reported in August 2014; suspended in October
Malcolm Waller
Zimbabwe
Reported in November 2014; suspended in December
Mohammad Hafeez
Pakistan
Reported in November 2014; suspended in December