ECB: Colin Graves to stand to succeed Giles Clarke as chairman
Last updated on .From the section Cricket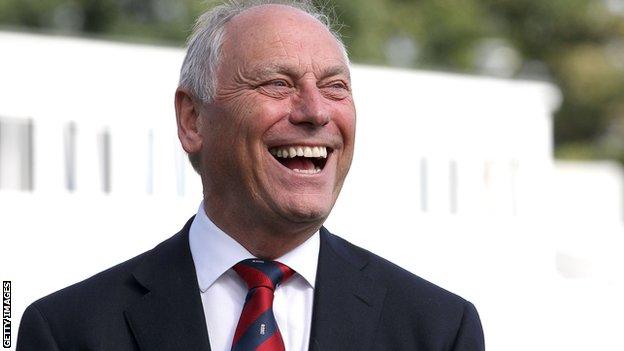 Yorkshire chairman Colin Graves will stand for the position of chairman of England and Wales Cricket Board (ECB) when Giles Clarke steps down in May.
Convenience-store entrepreneur Graves, 66, has previously voiced his support for "a top-to-bottom review of cricket".
Clarke, who has been chairman for eight years, will move on to take on a new role as the ECB's first president.
ECB members will be asked to approve the proposed changes later this month.
Graves, who has been chairman of county side Yorkshire since 2012, told the Yorkshire Post last week that there were "a lot of things to sort out" in the English game.
"Test match ticket sales are falling, and that needs looking at in a big way," he said.
"We've also got a recreational game in which participation is falling, and that needs looking at too.
"We've got to look at Twenty20, how we play it, when we play it and whether we can improve it for the public."
The ECB also announced that its chief executive Tom Harrison will lead a wide consultation process "to develop a strategy for the future of the game". He will set out his blueprint in late 2015.